About our Commitment
At Anheuser-Busch, sustainability is core to everything we do. Whether it's sourcing high-quality ingredients from US farmers or reducing the environmental impact of our more than 120 facilities nationwide, a healthy environment and thriving local communities are key ingredients in the brewing process.
That's why, as America's leading brewer, we aim to make a big impact with a small footprint through our industry-leading sustainability efforts – and inspire our partners, colleagues, and consumers to do the same.
We focus our sustainability efforts in four key areas across our supply chain where we can leverage our scale and expertise to drive the most impact from 'seed to sip': sustainable agriculture, water stewardship, renewable electricity and carbon reduction, and circular packaging.
In 2018, we set aggressive 2025 goals against these four key pillars. Since then, we have invested millions of dollars in innovative sustainability initiatives, and we are ahead of schedule, including achieving our goal of brewing our products with 100% renewable electricity.

Smart Agriculture: 100% of our direct farmers will be highly-skilled, connected, and financially empowered by 2025

Water Stewardship: 100% of our facilities will be engaged in water efficiency efforts; and 100% of our communities in high-stress areas will have measurably improved water availability and quality by 2025

Renewable Energy and Carbon Reduction: 100% of our purchased electricity will come from renewable sources and CO2 emissions across our value chain will be reduced by 25% by 2025

Circular Packaging: 100% of our packaging will be made from majority recycled content or will be returnable by 2025
Yet, we continue to dream big and challenge ourselves to do more. Through our new global ambition to achieve net-zero by 2040, we aim to grow our quality ingredients, brew our beer, and deliver our products in a way that leaves our planet and the communities we serve better than we found them.
Our purpose is to create a future with more cheers, which means taking action now to invest in a more sustainable future for our planet that we can celebrate together.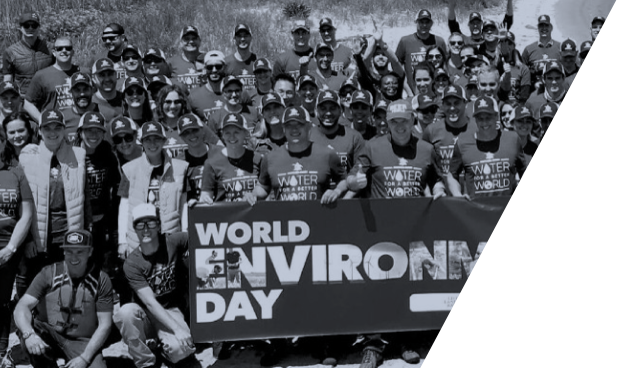 STAY UPDATED!
As we write the next chapter in Anheuser-Busch's great story, we want to stay in touch with you!
SIGN UP HERE