Busch Light Releases Fan-Favorite Corn Cans Supporting American Farmers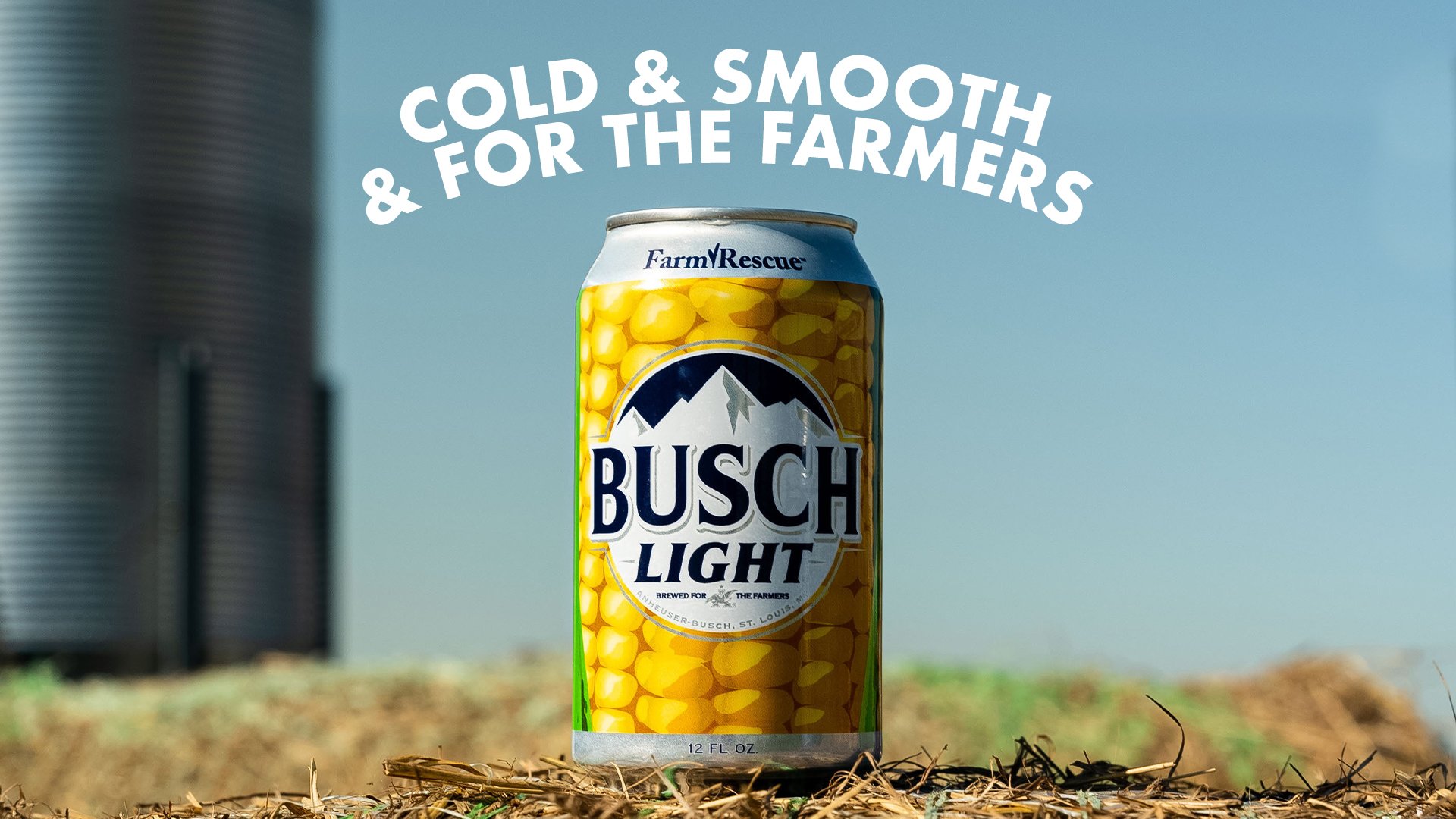 The Return of Corn Cans Will Raise Funds for Non-Profit Partner Farm Rescue
New York, NY - May 19, 2023 – Busch Light, a devoted supporter of the country's agricultural community, announces its third annual release of Busch Light Corn Cans. The limited-edition cans honor and celebrate America's farmers who work tirelessly to grow food for our communities, while raising awareness and funds for Busch Light's long-time partner Farm Rescue, a nonprofit organization that provides critical aid to family farms in crisis.
For each case of Corn Cans sold during the limited run, Busch Light will donate $0.25 to Farm Rescue, up to $200,000*. As a long-time partner of the non-profit, Busch Light is honored to play a role in raising awareness and funding for Farm Rescue so it can continue to be there for farmers when they need it most.
Busch Light is proud to support the U.S. agricultural community and when it comes specifically to corn, a critical ingredient in a cold and smooth Busch Light, the brand is honored to have long standing relationships with grower partners and suppliers in Illinois, Iowa, Wisconsin, Nebraska, Indiana, Tennessee and Kansas.
Busch Light has been a proud partner of Farm Rescue since 2019 and has worked with the non-profit on multiple initiatives bringing awareness and funds to local farms; including specialty can releases, support of Farm Rescue's expansion to Kansas, redirecting advertising budget to barns and sheds owned by farmers across the country, and more. As part of the brand's ongoing commitment to farmers, Busch Light has raised close to $1 million in on behalf of Farm Rescue.
Since debuting Corn Cans in 2020, they have been a favorite amongst Busch Light drinkers with fans expressing their excitement for the product on Twitter.
Busch Light Corn Cans are available for purchase nationwide now through July 3, 2023. For additional information about Busch Light Corn Cans and Farm Rescue, 21+ drinkers can learn more by following Busch Light on Facebook, Twitter and Instagram.
*For every case sold, Busch Light will donate $0.25 to Farm Rescue. 5/15/23 through 7/3/23, up to $200,000. Case = 24-pack equivalent (12 oz. cans). Applies to 24-Pack Busch Light Corn Can Purchases Only.
ABOUT BUSCH LIGHT
Busch Light is made with exceptional ingredients and has a crisp, refreshing taste that is as cold and smooth as a mountain stream. The beer brewed for the great outdoors takes cracking a cold one and heading for the mountains seriously, with passion points rooted in fishing, hunting, farming, NASCAR and country music. With focus and investment on meeting fans where they already are with a Busch Light in hand, the brand has experienced consistent growth since 2019 and as of 2023, is the 3rd fastest growing beer brand in terms of category share. The Busch brand name represents a family of products including Busch Beer, Busch Light, Busch Ice and Busch NA. For more information, visit www.busch.com and follow Busch Light on Twitter, Facebook and Instagram.
ABOUT FARM RESCUE
Farm Rescue was founded in 2005 and has helped nearly 1,000 families since its inception. The organization's mission is to help farmers and ranchers who have experienced a major illness, injury, or natural disaster by providing the necessary equipment and volunteer labor to perform time-sensitive services. Applications for assistance are currently being accepted and can be obtained at farmrescue.org or by calling 701-252-2017.
ABOUT ANHEUSER-BUSCH
At Anheuser-Busch, our purpose is to create a future with more cheers. We are always looking to serve up new ways to meet life's moments, dream big to move our industry forward, and make a meaningful impact in the world. We hope to build a future that everyone can celebrate, and everyone can share. For more than 160 years, Anheuser-Busch has carried on a legacy of brewing great-tasting, high-quality beers that have satisfied beer drinkers for generations. Today, we own and operate more than 120 facilities, including breweries, wholesaler distribution centers, agricultural facilities and packaging plants, and have more than 19,000 colleagues across the United States.
We are home to several of America's most loved beer and beyond beer brands, including Michelob ULTRA, Cutwater Spirits, Stella Artois, Budweiser and Bud Light as well as a number of regional brands that provide beer drinkers with a choice of the best-tasting craft beers in the industry. From responsible drinking programs and emergency drinking water donations to industry-leading sustainability efforts, we are guided by our unwavering commitment to supporting the communities we call home. For more information, visit www.anheuser-busch.com or follow Anheuser-Busch on LinkedIn, Twitter, Facebook, and Instagram.

Press Contacts
Media@anheuser-busch.com is a single point of contact for journalists. If you are a member of the press and have an exclusively news-related inquiry, please direct it to this address. For other questions or requests, please click here.