Anheuser-Busch Expands Efforts to Promote Responsible Alcohol Delivery Practices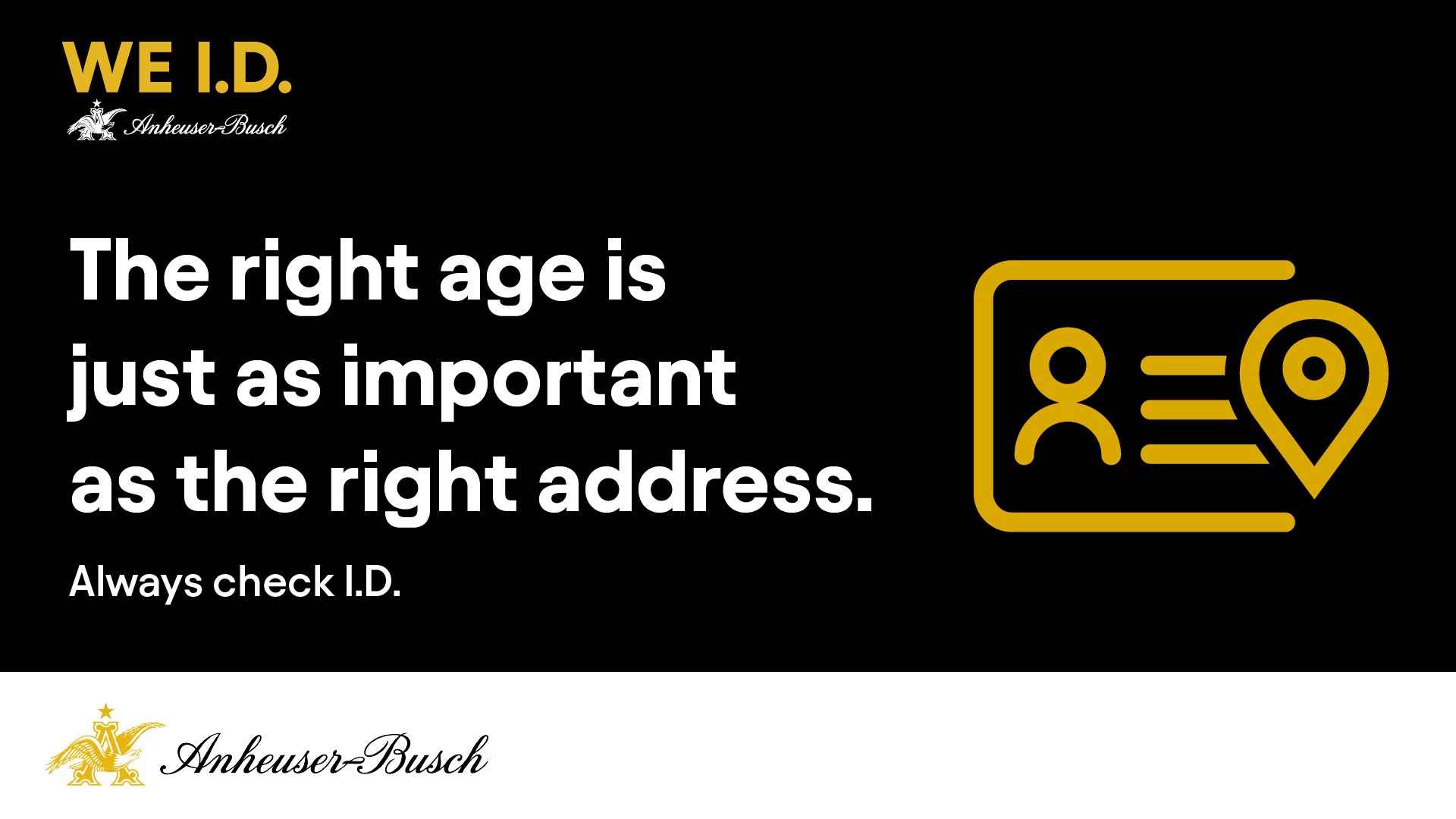 To advance industry-wide awareness, the nation's leading brewer releases new resources for retailers to ensure every sale and delivery of alcohol is done responsibly
November 8, 2022 – Building on its consistent and long-standing commitment to fostering a culture of responsible drinking, Anheuser-Busch has launched a new Responsible Delivery website for retailers. The new resource provides free resources to encourage responsible delivery, including proper ID verification. This effort builds on Anheuser-Busch's partnership with Drizly and Training for Intervention ProcedureS (TIPS) encouraging retailers to expand their training on responsible alcohol delivery by providing them with educational tools and solutions for delivery personnel.
For decades, Anheuser-Busch has championed age verification best practices at the point of purchase in partnership with our dedicated wholesaler network and retailers through the We I.D. program. As the alcohol industry continues to evolve, it is essential to ensure e-commerce retailers, marketplaces and delivery team members are knowledgeable about their duties to protect against sales to underage or intoxicated customers.
"As the market evolves and more consumers seek the convenience of at-home alcohol delivery options, the need for robust training on responsible delivery has never been more relevant," said Colleen Lucas, Vice President of Community Impact at Anheuser-Busch. "We're excited to further this mission by providing our wholesalers and retail partners with a central online location where they can find resources and tools to educate their delivery team members on ensuring every sale of our products is conducted responsibly."
"We are proud to be partnering with Anheuser-Busch on this important initiative to promote safe and responsible deliveries across the Drizly network," said Cathy Lewenberg, Chief Operating Officer of Drizly. "At Drizly, we care deeply for our customers and are committed to promoting responsible drinking. We know our Retail Partners share that commitment. We believe this initiative will further empower our partners to operate safely, effectively, and with care as they connect with more and more customers through the Drizly network."
As a part of this effort, Anheuser-Busch has developed a new Responsible Delivery Toolkit outlining responsible delivery best practices and training fundamentals. It contains key information for age verification and reporting, as well as several key considerations for delivery team members.
The website provides printable posters and mobile-friendly digital assets on responsible delivery basics, including tips on ID verification and underage warning signs. The toolkit also includes content from the eTIPS Off Premise and Delivery certification course that aims to educate alcohol delivery retailers and delivery personnel on recognizing when a customer is intoxicated or underage. Anheuser-Busch has shared this new resource with its wholesaler partners for use with their retailer customers. While this toolkit will serve as a helpful resource for responsible delivery practices, retailers and delivery partners should still ensure they have reviewed all state and local laws to ensure their delivery practices are compliant with all federal, state, and local laws.
At Anheuser-Busch, our purpose is to create a future with more cheers. We are always looking to serve up new ways to meet life's moments, dream big to move our industry forward, and make a meaningful impact in the world. We hope to build a future that everyone can celebrate, and everyone can share. For more than 160 years, Anheuser-Busch has carried on a legacy of brewing great-tasting, high-quality beers that have satisfied beer drinkers for generations. Today, we own and operate more than 120 facilities, including breweries, wholesaler distribution centers, agricultural facilities and packaging plants, and have more than 19,000 colleagues across the United States. We are home to several of America's most loved beer and beyond beer brands, including Michelob ULTRA, Cutwater Spirits, Stella Artois, Budweiser and Bud Light as well as a number of regional brands that provide beer drinkers with a choice of the best-tasting craft beers in the industry. From responsible drinking programs and emergency drinking water donations to industry-leading sustainability efforts, we are guided by our unwavering commitment to supporting the communities we call home. For more information, visit  www.anheuser-busch.com  or follow Anheuser-Busch on LinkedIn , Twitter , Facebook , and Instagram . 
Drizly , an Uber company, is a leading beverage alcohol e-commerce shop. Millions of consumers of legal drinking age turn to Drizly to get the best drinks for the moment, delivered. With one of the widest selections of beer, wine, and spirits, Drizly offers convenient delivery options with a tailored shopping experience based on what consumers are shopping for - whether that's a gift, a big order for an event, or drinks for a casual night at home. Today, Drizly partners with thousands of retailers and suppliers to help them to reach new customers, tap into key market and customer insights, and diversify their business to grow sales. As the industry leader, Drizly is building the best shopping experience for beverage alcohol in a regulatory compliant manner that promotes a safe drinking culture. Learn more at  Drizly.com , download the Drizly app ( App Store  and   Google Play ) and follow Drizly on Facebook , Twitter and Instagram .
Press Contacts
Media@anheuser-busch.com is a single point of contact for journalists. If you are a member of the press and have an exclusively news-related inquiry, please direct it to this address. For other questions or requests, please click here.