Anheuser-Busch Welcomes Cutwater Spirits!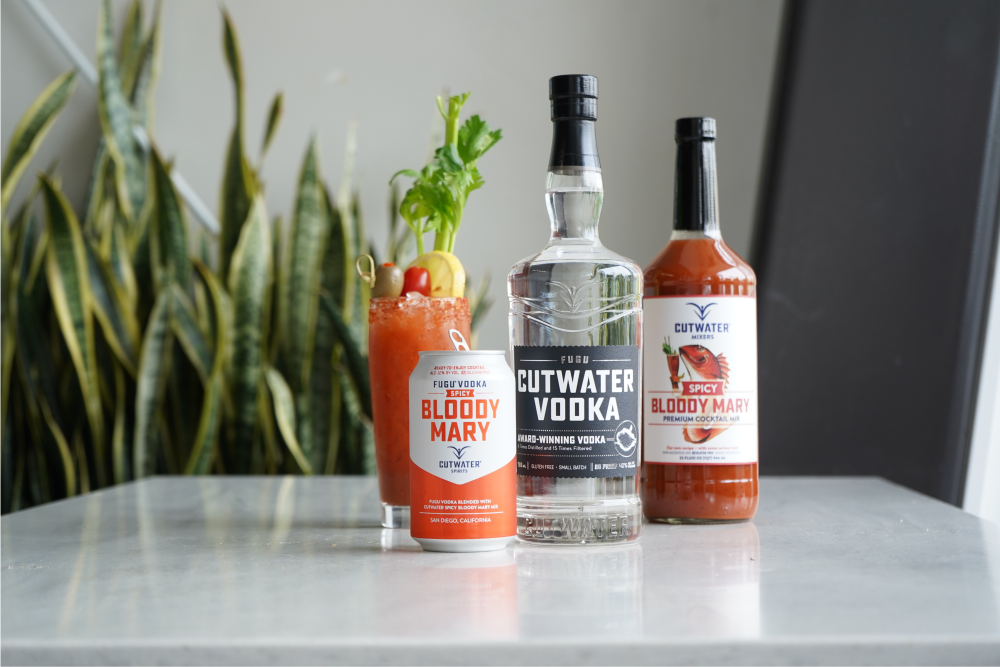 Partnership Will Help Cutwater Spirits Grow Even Faster

Anheuser-Busch is delighted to share that Cutwater Spirits, an award-winning spirits and canned cocktail company, is joining their growing Beyond Beer portfolio.
Founded in 2016 by former Ballast Point executives, Cutwater Spirits has quickly become a leader in the premium ready-to-enjoy cocktail market with its high-quality ingredients, transparent packaging and innovative combinations. In total, Cutwater Spirits has seven premium mixers, 14 canned cocktails and 16 types of spirits encompassing variations of whiskey, vodka, gin and rum. They currently distribute to 34 states and have experienced double and triple-digit growth since inception.
"We're thrilled to have found a partner that understands our vision for Cutwater Spirits and will give us the tools and resources to grow and thrive. We're excited to join Anheuser-Busch and work with the team there to bring our spirits and canned cocktails to the world," said Yuseff Cherney, Cutwater Spirits Founder.
Cutwater Spirits is based in San Diego, CA and operates out a 50,000 square foot production facility. The company, which will continue to be led by Yuseff Cherney, Earl Kight, and other Senior-level Managers will leverage Anheuser-Busch's expertise in logistics & distribution, brand-building and packaging to scale the brand even faster.
"We're excited to welcome the Cutwater Spirits team to the Anheuser-Busch family. We have tremendous respect for the brand that Cutwater Spirits has created and cultivated in just a few years and look forward to working with them to expand their premium canned cocktails to consumers across the U.S.," said Marina Hahn, New Business Co-Founder, Anheuser-Busch.
Cutwater Spirits will add premium ready-to-enjoy cocktails to Anheuser-Busch's "Beyond Beer" portfolio, which already includes the Ritas, Spiked Seltzer, Babe Rose and HiBall.
The partnership with Cutwater Spirits is subject to regulatory approval. Terms of the agreement were not disclosed.
About Cutwater Spirits
Built on the spirit of innovation, Cutwater Spirits is an award-winning maker of distilled spirits, mixers, and ready-to-enjoy canned cocktails based in San Diego, California. Originally founded in 2007 as Ballast Point Spirits, and rebranded in 2016 as Cutwater Spirits, we have amassed over 450 awards across our portfolio of products and are currently distributed in 34 states. We have become an industry leader in the RTD canned cocktail market with 14 different spirit based canned products, including our American Distillers Institute Best-in-Class winning Vodka Mule, San Francisco World Spirits Competition Gold Medal winning Spicy Bloody Mary, and our line of Vodka Sodas featuring 99 calories and zero carbohydrates. Production takes place at our 50,000 square foot facility in the Miramar neighborhood of San Diego, which includes a 250-seat world-class tasting room offering lunch, dinner, cocktails, and tours, where guests can learn about our products and experience our R&D process. For more information, visit www.cutwaterspirits.com or follow Cutwater on Instagram, Facebook, and Twitter.
About Anheuser-Busch
For more than 165 years, Anheuser-Busch has been woven into the cultural fabric of the United States, carrying on a legacy of brewing great-tasting, high-quality beers that have satisfied beer drinkers for generations. Today, we own and operate 23 breweries, 15 distributorships and 23 agricultural and packaging facilities, and have more than 18,000 colleagues across the United States. We are home to several of America's most recognizable beer brands, including Budweiser, Bud Light, Michelob ULTRA and Stella Artois, as well as a number of regional brands that provide beer drinkers with a choice of the best-tasting craft beers in the industry.
From responsible drinking programs and emergency drinking water donations to industry-leading sustainability efforts, we are guided by our unwavering commitment to supporting the communities we call home.
For more information, visit www.anheuser-busch.com or follow Anheuser-Busch on LinkedIn, Twitter, Facebook and Instagram.
Press Contacts
Media@anheuser-busch.com is a single point of contact for journalists. If you are a member of the press and have an exclusively news-related inquiry, please direct it to this address. For other questions or requests, please click here.