Brewers Collective Increases Representation of People with Disabilities within the Beer Industry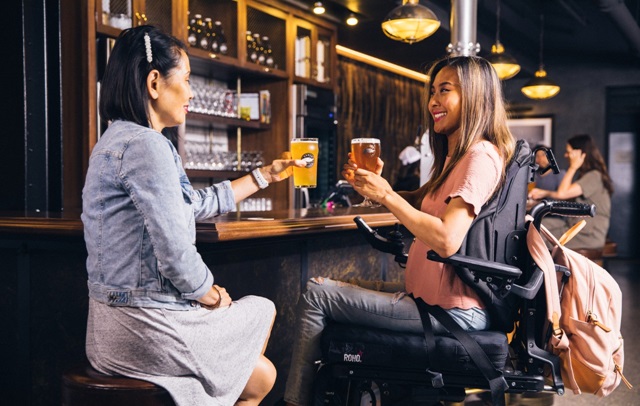 Elevate Initiative Expands Stock Photo Library Featuring Beer Drinkers with Diverse Abilities
NEW YORK (October 1, 2019) – Through work via its Elevate initiative, Brewers Collective, the craft business unit of Anheuser-Busch, is increasing representation for people with disabilities by expanding its free stock photography library available on Pexels and Unsplash. The beer-focused libraries, initially launched in 2018, introduced photography including gender and racially diverse people, are now expanded to showcase beer drinkers with disabilities and offer free, high-quality photography for use in all media.
"I'm immensely proud that we've expanded our stock photography initiative to spotlight one of the most under-represented groups of people, people with disabilities," said Brewers Collective President Marcelo "Mika" Michaelis. "We have an opportunity to be an advocate for inclusivity and diversity, not only for the betterment of our industry, but also to grow as a category. It's imperative that all of our customers feel seen, heard and represented."
An estimated 56.7 million Americans are currently living with some form of disability[1]— yet within visual media people with disabilities are severely underrepresented, making up only 2.4% of speaking roles in film, 2.1% of roles in television, and 2% of individuals represented in stock photography.
To ensure the photo shoots were well-rounded and authentic, the Elevate team partnered with Aaron Baker—a quadriplegic athlete, author, and ambassador—as creative director and consultant for the photoshoots, bringing his perspective and critical eye to our entire program. Aaron tapped his vast network of friends, family and supporters to find diverse models to participate in the various shoots at Brewers Collective craft partner breweries throughout the U.S., including: Golden Road Brewing (Los Angeles), Goose Island Beer Co. (Chicago), Four Peaks Brewing Co. (Tempe, AZ) and 10 Barrel Brewing Co. (Bend, OR) in partnership with Oregon Adaptive Sports (OAS). The photos are now available for download on stock photo websites Pexels and Unsplash.
"Brewers Collective and Anheuser-Busch have a very strong voice. Their messaging can create not only impact, but movement," explained Baker. "Diverse representation is a powerful way to bring us all together... while we share a cold beer."
For more information about this program and our other commitments, please visit www.ElevateBeer.com.
About Elevate
Elevate is a SABRE-award winning, purpose-driven initiative to create and inspire the brightest future possible. By setting ambitious goals and measurable actions the program is designed to ensure that progress is not only possible, but inevitable. Each pillar has dynamic goals that highlight commitments while inspiring others to join the journey to a stronger, healthier beer industry. The five pillars are focused on: better beer, the beer industry, the environment, our communities and diversity & inclusion.
About Brewers Collective
Brewers Collective, a business unit of Anheuser-Busch, is on a mission to energize how people view, consume and experience beer by sharing our joy of brewing. We have an unwavering devotion to our beer, brands, people and communities, and are on a continued pursuit of making the next beer our best one yet. We believe that quality is not an exception, innovation is a standard, and that everyone is welcome within the world of beer. Our craft partners include: 10 Barrel Brewing Co., Blue Point Brewing Company, Breckenridge Brewery, Devils Backbone Brewing Company, Elysian Brewing Company, Four Peaks Brewing Co., Golden Road Brewing, Goose Island Beer Company, Karbach Brewing Co., Platform Beer Co., Veza Sur Brewing Co., Virtue Cider, and Wicked Weed Brewing. Brewers Collective encourages everyone to drink responsibly, hydrate and get a safe ride home when needed.
About Anheuser-Busch
For more than 165 years, Anheuser-Busch has carried on a legacy of brewing great-tasting, high-quality beers that have satisfied beer drinkers for generations. Today, we own and operate 23 breweries, 14 distributorships and 23 agricultural and packaging facilities, and have more than 18,000 colleagues across the United States. We are home to several of America's most recognizable beer brands, including Budweiser, Bud Light, Michelob ULTRA and Stella Artois, as well as a number of regional brands that provide beer drinkers with a choice of the best-tasting craft beers in the industry. From responsible drinking programs and emergency drinking water donations to industry-leading sustainability efforts, we are guided by our unwavering commitment to supporting the communities we call home. For more information, visit www.anheuser-busch.com or follow Anheuser-Busch on LinkedIn, Twitter, Facebook and Instagram.
[1] The Return on Disability Group: The Global Economics of Disability: 2016 (P10) by Rich Donovan
Press Contacts
Media@anheuser-busch.com is a single point of contact for journalists. If you are a member of the press and have an exclusively news-related inquiry, please direct it to this address. For other questions or requests, please click here.