Bud Light Announces First-Ever Bud Light Backyard Tour Summer Concert Series Featuring OneRepublic, Midland, Dashboard Confessional and Bush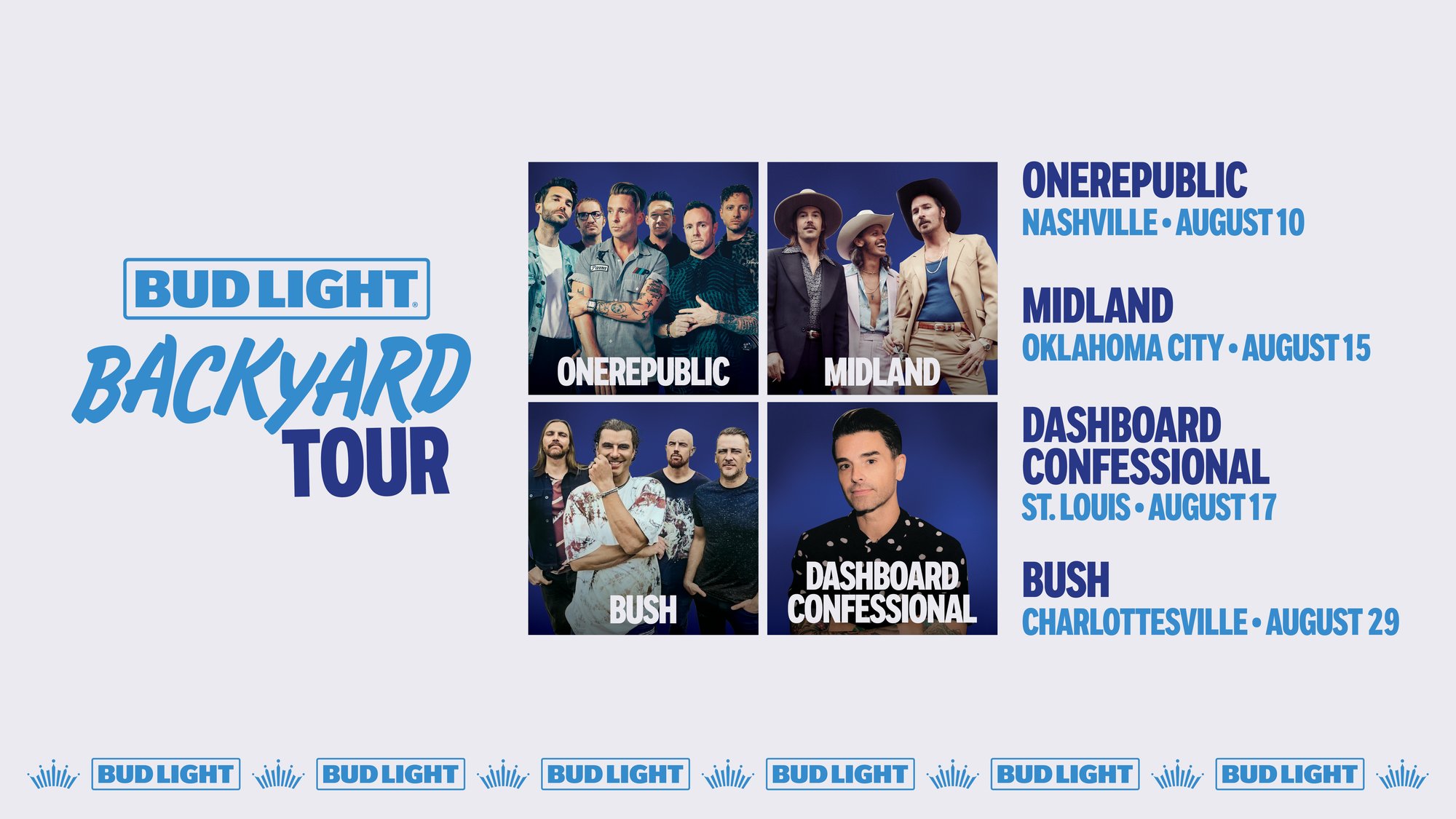 Continuing to show how it's "Easy to Summer," the Bud Light Backyard Tour allows fans to step into the Bud Light Backyard for intimate sets and easy hangs with their favorite artists for free
NEW YORK, NY – July 13, 2023 – On the heels of Bud Light's recently-announced "Easy to Summer" platform, part of the larger Easy to Drink, Easy to Enjoy campaign established at the Super Bowl, the brand is now making it easier than ever for 21+ fans to see their favorite rock and country artists live this summer for free with the Bud Light Backyard Tour. The Bud Light Backyard Tour is a national music tour that offers 21+ fans the chance to step into local venues for intimate sets and easy hangs with some of music's biggest names this summer, including OneRepublic, Midland, Dashboard Confessional, and Bush.
"This summer, Bud Light is building upon its 'Easy to Drink, Easy to Enjoy' platform by showing just how easy it is to enjoy the summer season," said Todd Allen, Vice President of Marketing for Bud Light. "We know summer concert experiences can sometimes be hard to enjoy between scoring coveted tickets and navigating large venues, which is why we are proud to introduce the Bud Light Backyard Tour, a summer tour that is easy to enjoy by bringing top artists and the best parts of the live music experience directly to local venues featuring intimate, backyard vibes across the country."
Fans can catch their favorite artists, along with openers like Dee Jay Silver, Tyler Braden and Lindsay Ell, on the Bud Light Backyard Tour in the following cities. To enter for a chance to win tickets to the tour, fans can visit BudLightBackyard.com.
- Nashville, TN - August 10: OneRepublic
- Oklahoma City, OK - August 15: Midland
- St. Louis, MO - August 17: Dashboard Confessional
- Charlottesville, VA - August 29: Bush
"Summer, country music, beer, and good times. Why wouldn't we be there?" said country band, Midland, about their participation in the tour.
The Bud Light Backyard Tour builds on the brand's long history of bringing fans closer to the music and artists they love with previous activations like the Bud Light Dive Bar Tour and Bud Light Seltzer Sessions bringing performances of top acts to intimate settings.
To follow the latest on Bud Light, visit BudLight.com and follow Bud Light on Facebook at Facebook.com/BudLight, on Twitter at @BudLight, and on Instagram at @BudLight.
###
ABOUT BUD LIGHT
The Bud Light brand name represents a family of products including Bud Light, Bud Light Seltzer, Bud Light NEXT, Bud Light Peels, Bud Light Chelada, Bud Light Platinum and Bud Light Platinum Seltzer. At the forefront of innovation, Bud Light continues to expand its product portfolio, offering a wide range of products brewed to meet the ever-changing preferences of consumers everywhere. Since 1982, Bud Light has delivered the best-selling premium light lager in America that is consistently brewed with a fresh, clean finish. For more information about Bud Light and our full family of products, visit www.BudLight.com.
ABOUT ANHEUSER-BUSCH
At Anheuser-Busch, our purpose is to create a future with more cheers. We are always looking to serve up new ways to meet life's moments, dream big to move our industry forward, and make a meaningful impact in the world. We hope to build a future that everyone can celebrate, and everyone can share. For more than 165 years, Anheuser-Busch has carried on a legacy of brewing great-tasting, high-quality beers that have satisfied beer drinkers for generations. Today, we own and operate more than 120 facilities, including breweries, wholesaler distribution centers, agricultural facilities and packaging plants, and have more than 19,000 colleagues across the United States.
We are home to several of America's most loved beer and beyond beer brands, including Michelob ULTRA, Cutwater Spirits, Stella Artois, Budweiser and Bud Light as well as a number of regional brands that provide beer drinkers with a choice of the best-tasting craft beers in the industry. From responsible drinking programs and emergency drinking water donations to industry-leading sustainability efforts, we are guided by our unwavering commitment to supporting the communities we call home. For more information, visit www.anheuser-busch.com or follow Anheuser-Busch on LinkedIn, Twitter, Facebook and Instagram.
Press Contacts
Media@anheuser-busch.com is a single point of contact for journalists. If you are a member of the press and have an exclusively news-related inquiry, please direct it to this address. For other questions or requests, please click here.