BUD LIGHT MAKES FOOTBALL SEASON EVEN EASIER TO ENJOY AS BRAND UNVEILS 2023 COLLEGE FOOTBALL PLANS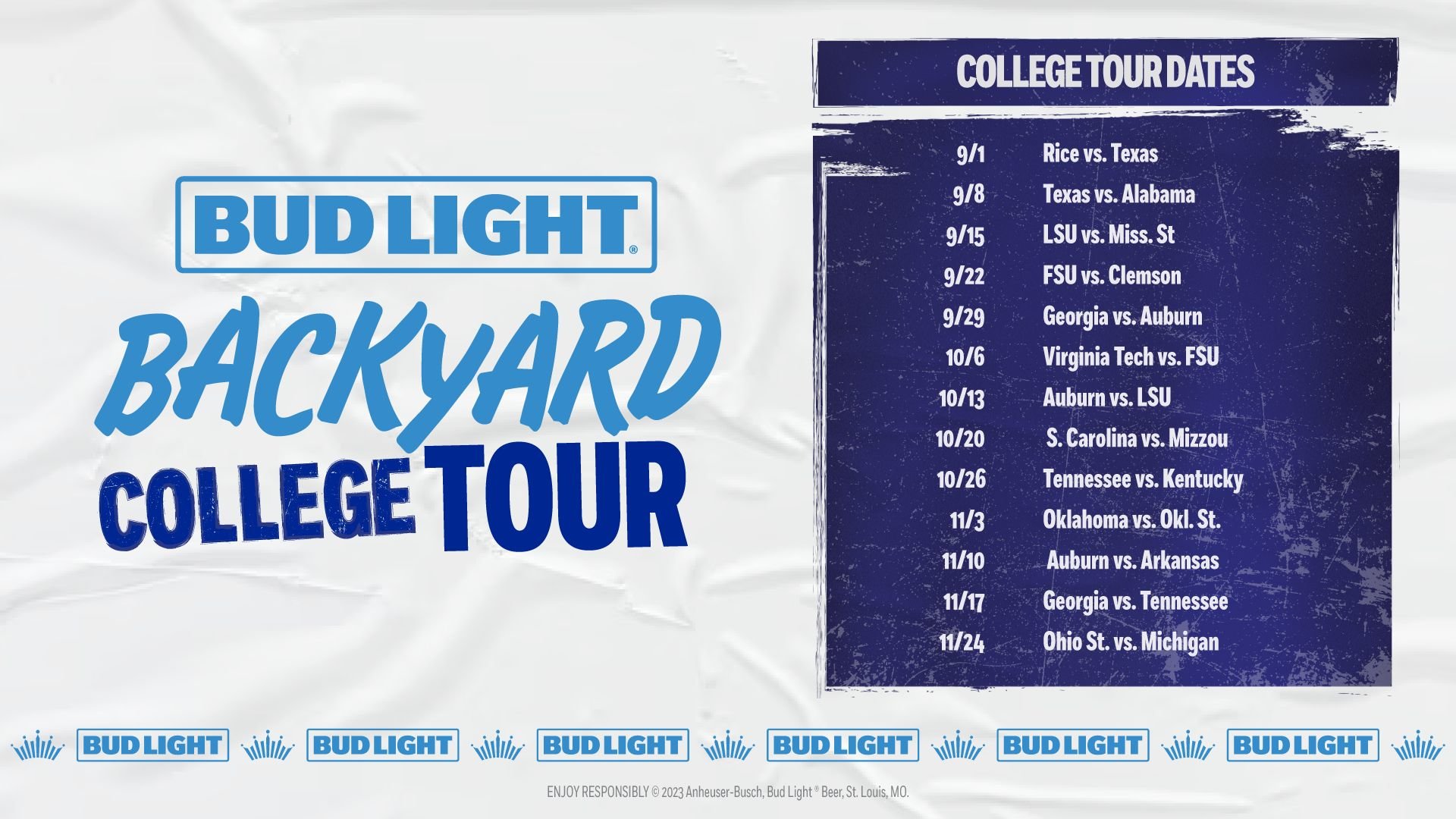 The "Easy to Drink, Easy to Enjoy" beer brand is introducing its largest collection of limited-edition college team cans, along with an exclusive college-edition of the Bud Light Backyard Tour concert series
NEW YORK, NY - AUGUST 30, 2023 – Football is back, tailgating season is here, and Bud Light is giving football fans everywhere one more reason to cheer this season. Just off the heels of the brand's 2023 NFL campaign, "Easy to Sunday," Bud Light is now expanding its college football presence, officially sponsoring more than 50 college teams and bringing easy enjoyment to 21+ college football fans across the country throughout the course of the weekend.
As part of the expansion, college fans 21+ will see a new limited-edition collection of Bud Light College Team Cans hit shelves and stadiums, complete with a chance to win a once-in-a-lifetime, private jet gameday flyaway experience and exclusive team merch to rep their colors proudly. The beer brand is also introducing a college edition of the Bud Light Backyard Tour, bringing gameday vibes and top DJs to college towns across the country ahead of some of the biggest rivalry games of the season.
"Saturday is a sacred time for college football fans, one that is centered around all-day tailgate traditions, quality beer, decades-old rivalries and easy enjoyment with friends and family," said Todd Allen, Vice President of Marketing for Bud Light. "This season, Bud Light is extending these fan celebrations over the course of the weekend with new team packaging perfect for gameday sipping, and live events that will get fans in gameday mode right as the weekend kicks off."
For The Fans: Limited-Edition Bud Light College Team Cans
With representation across the country, Bud Light has nearly doubled its College Team Cans collection to 20 team packs featuring each of the school's logo and colors, available in stadiums and everywhere Bud Light is sold. To make it even easier to celebrate college football season in style, each can features a QR code that fans 21+ can scan for a chance to win a flyover in a private jet at any game of the winner's choice, along with limited edition Fanatics team merch to rep their school this season.
Bud Light Backyard Tour: College Edition
For college football fans, gameday doesn't start on Saturday. That's why Bud Light is putting a spin on its Bud Light Backyard Tour in select college towns ahead of some of the biggest gameday rivalries of the season and inviting fans 21+ to enjoy cold beer and performances from top DJ's including Loud Luxury, Ship Wrek and ACRAZE on Thursday or Friday nights before the big game.
"We're pumped to bring our energy and music to game days in college towns this fall as part of the Bud Light Backyard Tour," said diamond and multi-platinum selling, international touring dance music duo, Loud Luxury. "Join us for the best party and an icy cold beer to get warmed up for some of the biggest football rivalry games of the season."
The 2023 Bud Light Backyard Tour college tour stops include:
- 9/1: Austin, TX for Rice University @ University of Texas
- 9/8: Tuscaloosa, AL for University of Texas @ University of Alabama
- 9/15: Starkville, MS for Louisiana State University @ Mississippi State University
- 9/22: Clemson, SC for Florida State University @ Clemson University
- 9/29: Auburn, AL for University of Georgia @ Auburn University
- 10/6: Tallahassee, FL for Virginia Tech @ Florida State University
- 10/13: Baton Rouge, LA for Auburn University @ Louisiana State University
- 10/20: Columbia, MO for University of South Carolina @ University of Missouri
- 10/26: Lexington, KY for University of Tennessee @ University of Kentucky
- 11/3: Stillwater, OK for University of Oklahoma @ Oklahoma State University
- 11/10: Fayetteville, AR for Auburn University @ University of Arkansas
- 11/17: Knoxville, TN for University of Georgia @ University of Tennessee
- 11/24: Ann Arbor, MI for Ohio State University @ University of Michigan
And that's not all. The party will continue into Saturday where Bud Light will deliver the ultimate gameday experience with Bud Light Backyard Tailgates featuring plenty of cold Bud Light, interactive games, social-worthy photo moments and more. Key media partnerships with NBC, Big10 Network and Peacock will provide a live look at Bud Light Backyard tailgates during gameday broadcasts.
For additional information on each tour stop, fans can visit budlight.com/collegetour.
To learn more about how Bud Light is bringing college football fans 21+ even closer to their teams this season, visit budlight.com/bud-light-cfb and follow Bud Light on Facebook at Facebook.com/BudLight, on Twitter at @BudLight, and on Instagram at @BudLight.
###
About Bud Light
The Bud Light brand name represents a family of products including Bud Light, Bud Light Seltzer, Bud Light NEXT, Bud Light Peels, Bud Light Chelada, Bud Light Platinum and Bud Light Platinum Seltzer. At the forefront of innovation, Bud Light continues to expand its product portfolio, offering a wide range of products brewed to meet the ever-changing preferences of consumers everywhere. Since 1982, Bud Light has delivered the best-selling premium light lager in America that is consistently brewed with a fresh, clean finish. For more information about Bud Light and our full family of products, visit www.BudLight.com.
About Anheuser-Busch
At Anheuser-Busch, our purpose is to create a future with more cheers. We are always looking to serve up new ways to meet life's moments, dream big to move our industry forward, and make a meaningful impact in the world. We hope to build a future that everyone can celebrate, and everyone can share. For more than 160 years, Anheuser-Busch has carried on a legacy of brewing great-tasting, high-quality beers that have satisfied beer drinkers for generations. Today, we own and operate more than 120 facilities, including breweries, wholesaler distribution centers, agricultural facilities and packaging plants, and have more than 19,000 colleagues across the United States. We are home to several of America's most loved beer brands, including Budweiser, Bud Light, Michelob ULTRA and Stella Artois, as well as a number of regional brands that provide beer drinkers with a choice of the best-tasting craft beers in the industry. From responsible drinking programs and emergency drinking water donations to industry-leading sustainability efforts, we are guided by our unwavering commitment to supporting the communities we call home. For more information, visit www.anheuser-busch.com or follow Anheuser-Busch on LinkedIn, Twitter, Facebook and Instagram.
Press Contacts
Media@anheuser-busch.com is a single point of contact for journalists. If you are a member of the press and have an exclusively news-related inquiry, please direct it to this address. For other questions or requests, please click here.