BUD LIGHT SHOWS IT'S "EASY TO SUNDAY" AS BRAND KICKS OFF ONE OF ITS BIGGEST NFL SEASONS WITH NEW COMMERCIAL STARRING REAL FANS AND REAL TRADITIONS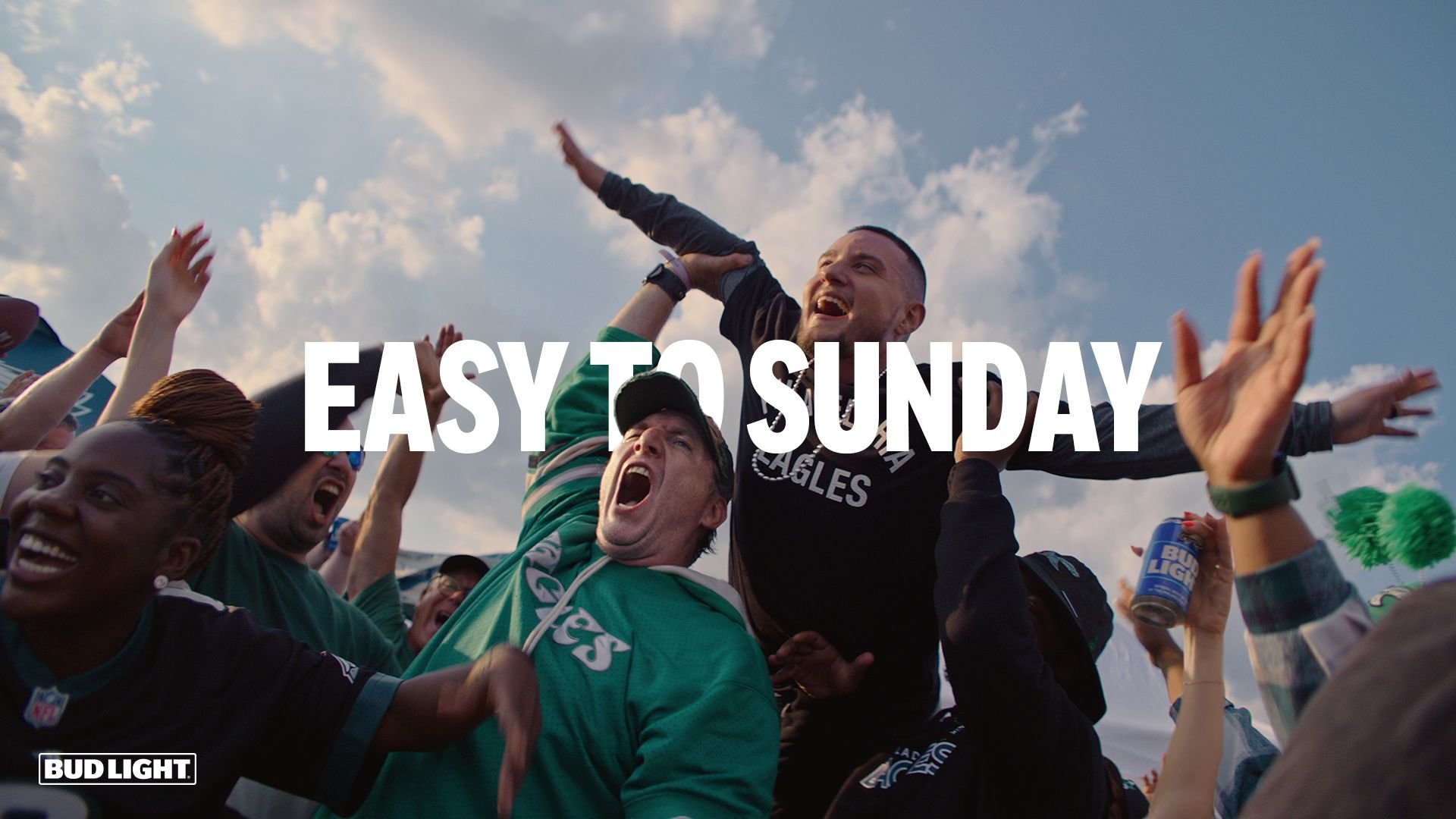 As the Official Beer Sponsor of the NFL, Bud Light is making it easier than ever for fans to enjoy the 2023 season with its new "Easy to Sunday" kickoff campaign and the return of limited-edition team packaging
NEW YORK, NY – August 24, 2023 – Football, Bud Light and Sunday go easy together, which is why the Official Beer Sponsor of the NFL is kicking off the 2023 season with one of the brand's biggest NFL campaigns ever: "Easy to Sunday." The campaign, part of the brand's "Easy to Enjoy" platform established at Super Bowl LVII, will celebrate the traditions and rituals of real NFL fans across the country. "Easy to Sunday" will make it easier for 21+ fans to represent and root for their favorite teams with the return of Bud Light NFL team cans. To celebrate the return of the NFL, Bud Light will host a promotional sweepstakes to give away more than 2,000 subscriptions to NFL Sunday Ticket from YouTube and YouTube TV, and fans will also have a chance to win e-gift cards for Fanatics merchandise on NFLShop.com.
"Bud Light has been the Official Beer Sponsor of the NFL for over 27 years, and every season we look forward to delighting fans by making their gameday celebrations easier over a Bud Light and America's most popular sport: football," said Todd Allen, Vice President of Marketing for Bud Light. "We know for NFL fans Sunday has become synonymous not only with game day, but also with time-honored traditions. Our new 'Easy to Sunday' campaign celebrates and honors those real Sunday moments that bring NFL fans across the country closer to their friends, their family and their local communities – and we are so proud to play a role in as a brand."
Bud Light Shows Its 'Easy to Sunday' This Season
Throughout this NFL Season, Bud Light is showing just how "Easy to Sunday" it is with a brand new commercial, set to run in :60, :30, and :15 second formats, that feature real fans and their Sunday traditions, including:
- A New York Giants fan who has been a season ticket member for 63 years and is known for his gameday mussels, the best in New Jersey.
- A Tennessee Titans fan and farmer who never misses listening to a game on the radio in his fully decked out tractor, complete with his favorite Titans' bobbleheads on the dash.
- A military veteran and die-hard Philadelphia Eagles fan who never missed a game when she was deployed, no matter the time of night.
- The first-ever woman nominated for an Emmy Award, whose passion for directing and the New England Patriots is nearly matched.
The spot is set to a cover of the iconic song "Sunday Kind of Love," recorded by husband-and-wife country duo, The War and Treaty.
Limited-Edition Bud Light NFL Packaging Returns For Fans To Easily Rep Their Teams
Making it easier for 21+ fans to rep their favorite team on Sunday and throughout the 2023 season, Bud Light's fan-favorite, limited-edition NFL team packaging is back for another year. With a new look across 23 NFL teams, this year's team cans prominently feature each team's logo and includes a player illustration in each team's official colors. The new cans also include a QR code fans can scan for information on how to win a NFL Sunday Ticket subscription from YouTube and YouTube TV, and fan merch through Bud Light's official merch partner, Fanatics. Bud Light's NFL team cans are available now everywhere Bud Light is sold.
Score NFL Sunday Ticket from YouTube and YouTube TV
Bud Light is making it easier than ever for fans to support their teams all season long. For the 2023 season, Bud Light is partnering with YouTube to give away more than 2,000 subscriptions to NFL Sunday Ticket from YouTube and YouTube TV to make streaming your out-of-market Sunday afternoon games easy. YouTube is the new home of NFL Sunday Ticket, which gives fans access to all live out-of-market Sunday afternoon games throughout the regular NFL season, and is available to purchase on YouTube and YouTube TV. Bud Light is also partnering with Fanatics to provide e-gift cards to NFLshop.com so fans can shop for their favorite team's merch.
For info on how to win, scan the QR code on the side of this year's team cans, or visit Budlight.com/NFL.
To learn more about how Bud Light is making it easy for fans to tune in this NFL season, visit Budlight.com/bud-light-NFL and follow Bud Light on Facebook at Facebook.com/BudLight, on Twitter at @BudLight, and on Instagram at @BudLight.
###
About Bud Light
The Bud Light brand name represents a family of products including Bud Light, Bud Light Seltzer, Bud Light NEXT, Bud Light Peels, Bud Light Chelada, Bud Light Platinum and Bud Light Platinum Seltzer. At the forefront of innovation, Bud Light continues to expand its product portfolio, offering a wide range of products brewed to meet the ever-changing preferences of consumers everywhere. Since 1982, Bud Light has delivered the best-selling premium light lager in America that is consistently brewed with a fresh, clean finish. For more information about Bud Light and our full family of products, visit www.BudLight.com.
About Anheuser-Busch
At Anheuser-Busch, our purpose is to create a future with more cheers. We are always looking to serve up new ways to meet life's moments, dream big to move our industry forward, and make a meaningful impact in the world. We hope to build a future that everyone can celebrate, and everyone can share. For more than 160 years, Anheuser-Busch has carried on a legacy of brewing great-tasting, high-quality beers that have satisfied beer drinkers for generations. Today, we own and operate more than 120 facilities, including breweries, wholesaler distribution centers, agricultural facilities and packaging plants, and have more than 19,000 colleagues across the United States. We are home to several of America's most loved beer brands, including Budweiser, Bud Light, Michelob ULTRA and Stella Artois, as well as a number of regional brands that provide beer drinkers with a choice of the best-tasting craft beers in the industry. From responsible drinking programs and emergency drinking water donations to industry-leading sustainability efforts, we are guided by our unwavering commitment to supporting the communities we call home. For more information, visit www.anheuser-busch.com or follow Anheuser-Busch on LinkedIn, Twitter, Facebook and Instagram.
Press Contacts
Press Contacts
Media@anheuser-busch.com is a single point of contact for journalists. If you are a member of the press and have an exclusively news-related inquiry, please direct it to this address. For other questions or requests, please click here.