Bud Light Teams Up with Miles & Keleigh Teller to Show How Its Iconic Beer Is 'Easy to Drink, Easy to Enjoy' As Brand Launches into New Era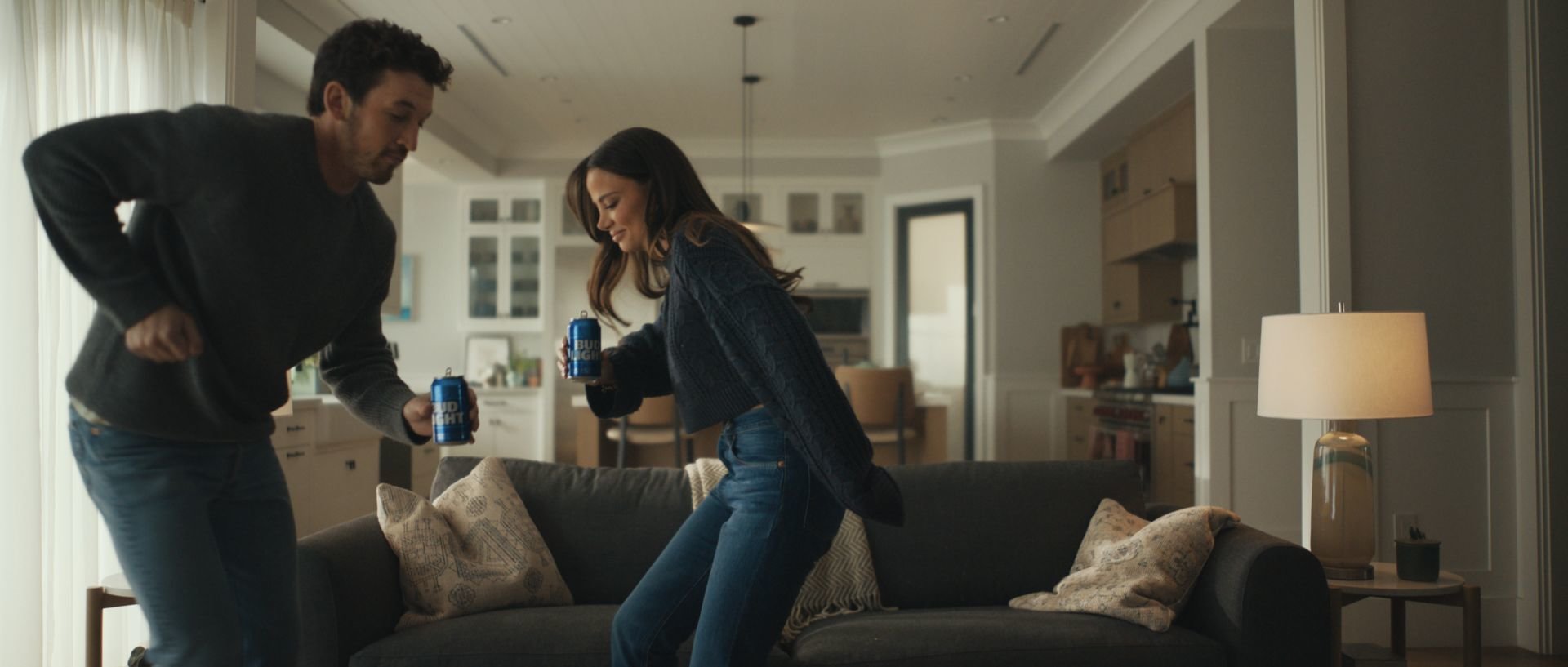 The #1 best-selling beer brand in the industry and official beer sponsor of the NFL returns to the Super Bowl with new campaign and a chance for 21+ fans to 'Bring Home the Bud Light'
NEW YORK, NY - FEBRUARY 2, 2023 - Bud Light is BACK on the Super Bowl stage - and showing up in style - with a brand-new campaign and the debut of its latest Super Bowl commercial, "Hold," featuring Hollywood it-couple, Miles and Keleigh Teller. "Hold" signals a new era for the Bud Light brand as it looks to reach fans 21+ in new ways, with a brighter look, a new sense of confidence, and a magnetic tone that helps fans see choosing to enjoy life is…easy.
"As not only the #1 best-selling beer brand in the industry, but a brand that fans look forward to seeing year-after-year in the Super Bowl, we are thrilled to announce Bud Light's return to the biggest stage in sports as we usher in a new era for Bud Light and deliver something totally new and unexpected," said Alissa Heinerscheid, Vice President of Marketing for Bud Light. "Forty-one years ago, Bud Light was created to be an easy-drinking beer; that is how we were born. We have turned that unique truth into our new platform – Bud Light is 'Easy to Drink, Easy to Enjoy', and we look forward to bringing this message to life for consumers at Super Bowl and beyond."
From one of the summer's hottest movies to Super Bowl screens all over the country, Miles Teller and wife, Keleigh, achieve peak couple goals in "Hold" as Keleigh frustratingly waits on the phone as the repetitive, but surprisingly catchy, hold music plays throughout the room. Miles decides to enjoy the moment, cracking open a Bud Light and, in classic Miles fashion, busts out a few of his signature dance moves while making his way over to Keleigh. After handing her a beer, Keleigh decides to join in on the fun as they light up the room together, dancing in rhythm to the music and taking the otherwise boring moment as an opportunity to enjoy, together.
"I couldn't be more excited to team up with Bud Light for my Super Bowl commercial debut alongside my wife, Keleigh, and the real star of the show, our dog Bugsy," said Miles Teller. "I loved the fact that Bud Light wanted to create something authentic in feeling and tone to our actual relationship. Life can get messy, it can get frustrating, it can all feel trivial and pointless at times, but I love the message of "Choosing Enjoyment" in those moments. At the end of the day, it's about who we spend our time with and how we choose to spend that time. Enjoy the little moments."
"Hold" marks just the start of what Bud Light has in store for 2023, with a diverse body of creative work under its new "Easy Enjoyment" platform set to air throughout the year. Last month during the NFL Playoffs, "The Bud Light Carry" premiered, depicting a familiar, tricky situation many fans find themselves in after buying their friends a round at the bar. Instead of taking multiple trips or recruiting friends to help, the hero in this spot decides to choose 'Easy Enjoyment' and takes the challenge head-on to bring the round of Bud Lights to her friends without spilling a drop.
Bud Light, the official beer sponsor of the NFL, will also be making it easy for 21+ fans everywhere to enjoy Super Bowl LVII by giving them the chance to 'Bring Home the Bud Light'. Bud Light has challenged the Super Bowl contending teams, the Kansas City Chiefs and the Philadelphia Eagles, to 'Bring Home the Bud Light' and unlock a city-wide celebration for fans if they win, making victory that much easier to enjoy. Bud Light will also be giving fans chances to 'Bring Home the Bud Light' and win $10,000 every time a team scores during the Big Game.
To learn more about how to win and to follow the latest on Bud Light, visit www.BudLight.com and follow Bud Light on Facebook at Facebook.com/BudLight, on Twitter at @BudLight, and on Instagram @BudLight.
BRING HOME THE BUD LIGHT® BEER MONEY GIVEAWAY. No Purchase Necessary. Open to US residents 21+. Being 1/24/23 & ends 2/13/23. Multiple entry periods. Visit Budlight.com/BringHomeTheBudLights for entry deadlines & Official Rules. Alcohol beverages are not part of the prize. Msg & data rates may apply. Void where prohibited.
###
About Bud Light
The Bud Light brand name represents a family of products including Bud Light, Bud Light Seltzer, Bud Light NEXT, Bud Light Peels, Bud Light Chelada, Bud Light Platinum and Bud Light Platinum Seltzer. At the forefront of innovation, Bud Light continues to expand its product portfolio, offering a wide range of products brewed to meet the ever-changing preferences of consumers everywhere. Since 1982, Bud Light has delivered the best-selling premium light lager in America that is consistently brewed with a fresh, clean finish. For more information about Bud Light and our full family of products, visit www.BudLight.com.
About Anheuser-Busch
At Anheuser-Busch, our purpose is to create a future with more cheers. We are always looking to serve up new ways to meet life's moments, dream big to move our industry forward, and make a meaningful impact in the world. We hope to build a future that everyone can celebrate, and everyone can share. For more than 160 years, Anheuser-Busch has carried on a legacy of brewing great-tasting, high-quality beers that have satisfied beer drinkers for generations. Today, we own and operate more than 120 facilities, including breweries, wholesaler distribution centers, agricultural facilities and packaging plants, and have more than 19,000 colleagues across the United States.
We are home to several of America's most loved beer and beyond beer brands, including Michelob ULTRA, Cutwater Spirits, Stella Artois, Budweiser and Bud Light as well as a number of regional brands that provide beer drinkers with a choice of the best-tasting craft beers in the industry. From responsible drinking programs and emergency drinking water donations to industry-leading sustainability efforts, we are guided by our unwavering commitment to supporting the communities we call home. For more information, visit www.anheuser-busch.com or follow Anheuser-Busch on LinkedIn, Twitter, Facebook, and Instagram.

Press Contacts
Michael Goon, Bud Light | media@anheuser-busch.comSherman Fabes, 3PM | sfabes@webershandwick.com
Media@anheuser-busch.com is a single point of contact for journalists. If you are a member of the press and have an exclusively news-related inquiry, please direct it to this address. For other questions or requests, please click here.