Budweiser Continues Super Bowl Legacy and Shines a Light on Those who Embody the American Spirit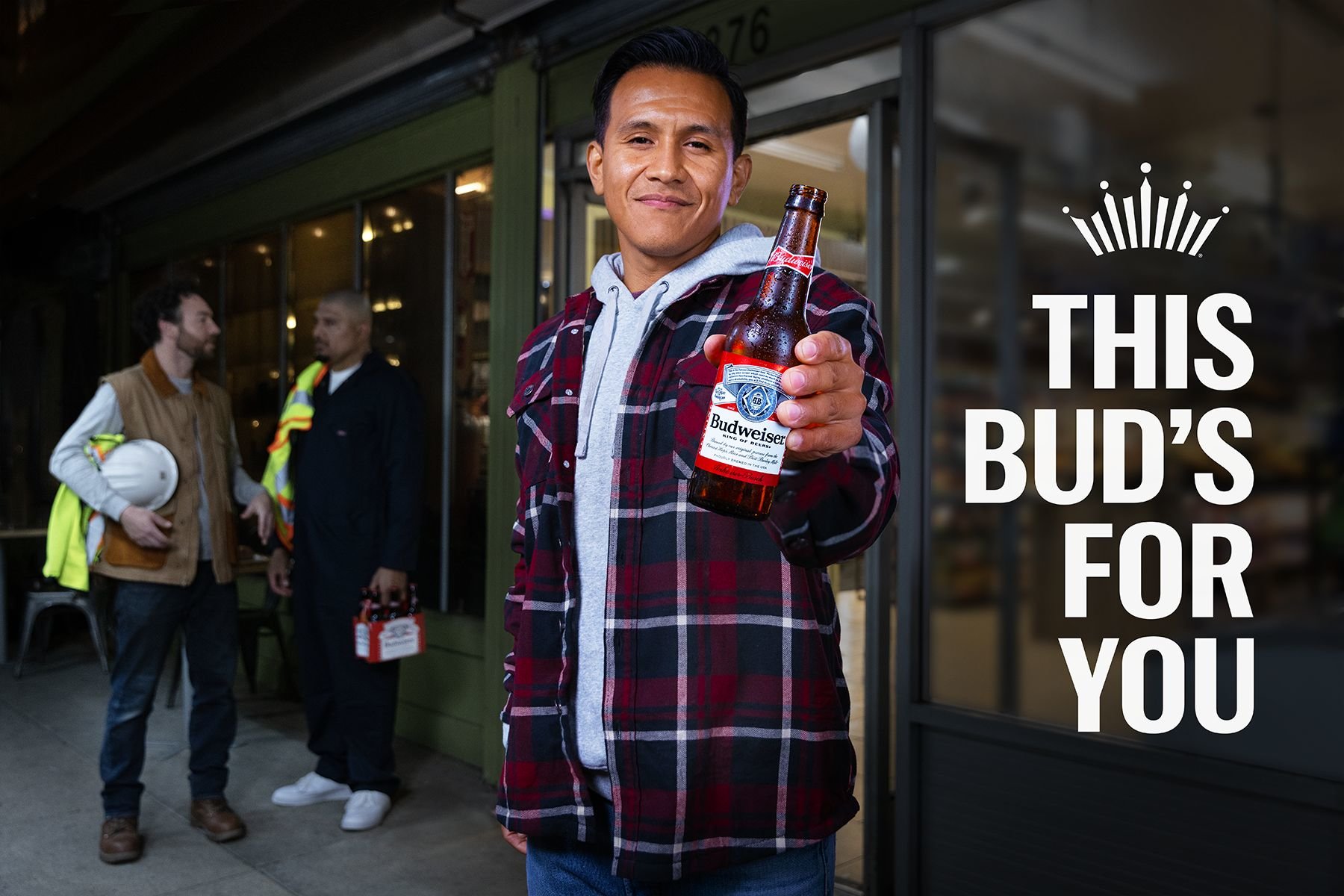 Featuring actor Kevin Bacon, Budweiser's Super Bowl spot highlights the six degrees of connection between people who share the same spirit and beer
January 31, 2023, New York, NY - Budweiser is continuing its Super Bowl legacy by returning to the Big Game with a reintroduction to its iconic tagline, "This Bud's For You." The spot is titled "Six Degrees of Budweiser" and kicks off a new focus for the brand in reaching a younger audience and depicting authentic, first-hand experiences that show the importance of human connection, determination, and the American spirit. The spot, narrated by Kevin Bacon, is Budweiser's modern interpretation of six degrees of separation, showing that no matter how different people are, shared values unite all Budweiser drinkers.
"Throughout Budweiser's history, the brand has championed the American spirit – the values and ideals that connect all our consumers no matter where they live or what they do," said Kristina Punwani, Head of Marketing, Budweiser. "In bringing back our iconic tagline, 'This Bud's For You,' we are also evolving the meaning behind the phrase – from something that used to signify the end of the work day to a mantra that embodies the modern consumer and all their side hustles, passion projects and career successes. We are going to continue this focus on intentional and authentic connections with our audience around topics and passion points that matter most to them like sports and music in 2023 and beyond."
The Spot
"Six Degrees of Budweiser" was created by FCB New York and directed by duo Lalou Dammond and Joaquin Baca-Asay. The spot is Budweiser's interpretation of the notion that everyone can be traced by just six degrees of separation. The commercial, narrated by Kevin Bacon, features six passionate, self-made Americans - from a renowned hip-hop artist and producer to a local food truck owner to a construction worker - and their journeys. Each individual is connected by their determination, spirit and a six-pack of Budweiser, which is passed from person to person until one beer remains. Budweiser then breaks the fourth wall by offering the final beer to the viewer and inviting them into the shared experience. Hip-hop artist and producer Metro Boomin, who stars in the spot, created the custom track featured in the commercial, matching the vibe and direction of the creative set by Dammond and Baca-Asay.
While each inspirational story is unique, the spot culminates with the phrase: "The people who share the same spirit share the same beer. This Bud's For You," showing that no matter how different each person's background, career or goals may be, they are all connected by the same shared values and drive.
"The thing about Super Bowl ads is that you have :30s to get people to feel something – to laugh, to cry, to be inspired. I loved bringing back the six degrees concept for this year's Super Bowl because at its core, the concept has always been about connection. I was especially drawn to the ending, when a Budweiser is handed to the camera and I say "This Bud's For You." I think this ad is going to stick with people," said actor Kevin Bacon.
The individuals in the spot are depicted in their daily profession or natural environment that showcases their personal story and life experiences, including:
Metro Boomin started from humble beginnings in St Louis, MO and has grown to be one of the top producers and hip-hop artists, including three albums reaching #1 on the Billboard Hot 200 and collaborating with some of the world's leading artists throughout his career. To date, he has received "Producer of the Year" at the BMI R&B/Hip-Hop Awards four consecutive years in a row and "Producer of the Year" at the BET Hip Hop Awards twice. He is shown in the spot working alongside PineappleCITI.
PineappleCITI is a singer and rapper and is shown in the commercial working on a new mix in the studio. After overcoming a tragic accident that left her unable to walk for two years, Pineapple blended different genres of music to create her own sound and overcome adversity. She has a new album coming out in 2023 and has written music for Rap Shit on HBO.
Robert Moran is a construction worker with the Steedle Brothers Company where he worked for his father until he unexpectedly passed away. In the spot, he is depicted hosting a BBQ, bringing together friends for a party. Robert's goal is to keep his father's craftsmanship alive while providing for his family, building homes for generations to come.
Theophilos Okuribido is a food truck owner and operator. In 2011, he opened his first food truck and after a failed venture, he bounced back with an inspiring story and a new small business called Fry Day where he continues sharing good food with his community.
Damian Young is the basketball player who hits the game winning shot in the spot and is a player for the Hometown Heroes in his day-to-day life. Raised by a hard-working, single mother in Denver, CO, his passion for the game and close relationship with his mother encouraged him to pursue his dream.
Laura Estra co-founded a community group during the pandemic focused on creating a collaborative environment where people can come together to eat, drink, play games and share stories to support and uplift one another. Within the spot, she is depicted as the BBQ host within the community.
Budweiser's focus on telling authentic stories, including those mentioned above, and the brand's reintroduction of "This Bud's For You" for an emerging group of Budweiser drinkers, who champion the brand, will extend beyond the Super Bowl and appear in all marketing campaigns in 2023. This reflects Budweiser's overarching strategy for the coming years, focused on modernizing the brand by connecting with a younger audience through key passion areas, including sports moments like the Super Bowl, and a localized music program that will resonate with consumers on a market-by-market basis. Budweiser's Super Bowl spot will air in key markets, such as Philadelphia, California and New York, where the brand sees the highest opportunity for growth and serves as the start of this new direction.
Fans can view the :30s regional buy of "Six Degrees of Budweiser" during the Super Bowl and can check out Budweiser's YouTube page and social channels for the :45s spot and additional content. For more information on Budweiser's Super Bowl campaign, follow Budweiser on Twitter, Instagram and Facebook.
About Budweiser
Budweiser, an American-style lager, was introduced in 1876 when company founder Adolphus Busch set out to create the United States' first truly national beer brand – brewed to be universally popular and transcend regional tastes. Each batch of Budweiser stays true to the same family recipe used by five generations of Busch family brewmasters. Budweiser is a medium-bodied, flavorful, crisp and pure beer with blended layers of premium American and European hop aromas, brewed for the perfect balance of flavor and refreshment. Budweiser is made using time-honored methods including "kraeusening" for natural carbonation and Beechwood aging, which results in unparalleled balance and character.
About Anheuser-Busch
At Anheuser-Busch, our purpose is to create a future with more cheers. We are always looking to serve up new ways to meet life's moments, dream big to move our industry forward, and make a meaningful impact in the world. We hope to build a future that everyone can celebrate, and everyone can share. For more than 160 years, Anheuser-Busch has carried on a legacy of brewing great-tasting, high-quality beers that have satisfied beer drinkers for generations. Today, we own and operate more than 120 facilities, including breweries, wholesaler distribution centers, agricultural facilities and packaging plants, and have more than 19,000 colleagues across the United States.
We are home to several of America's most loved beer and beyond beer brands, including Michelob ULTRA, Cutwater Spirits, Stella Artois, Budweiser and Bud Light as well as a number of regional brands that provide beer drinkers with a choice of the best-tasting craft beers in the industry. From responsible drinking programs and emergency drinking water donations to industry-leading sustainability efforts, we are guided by our unwavering commitment to supporting the communities we call home. For more information, visit www.anheuser-busch.com or follow Anheuser-Busch on LinkedIn, Twitter, Facebook, and Instagram.
Press Contacts
Media@anheuser-busch.com is a single point of contact for journalists. If you are a member of the press and have an exclusively news-related inquiry, please direct it to this address. For other questions or requests, please click here.