Anheuser-Busch, MADD and Uber Partner with the New York State Governor's Traffic Safety Committee to Help Prevent Drunk Driving in Buffalo this Summer Through the Decide to Ride Campaign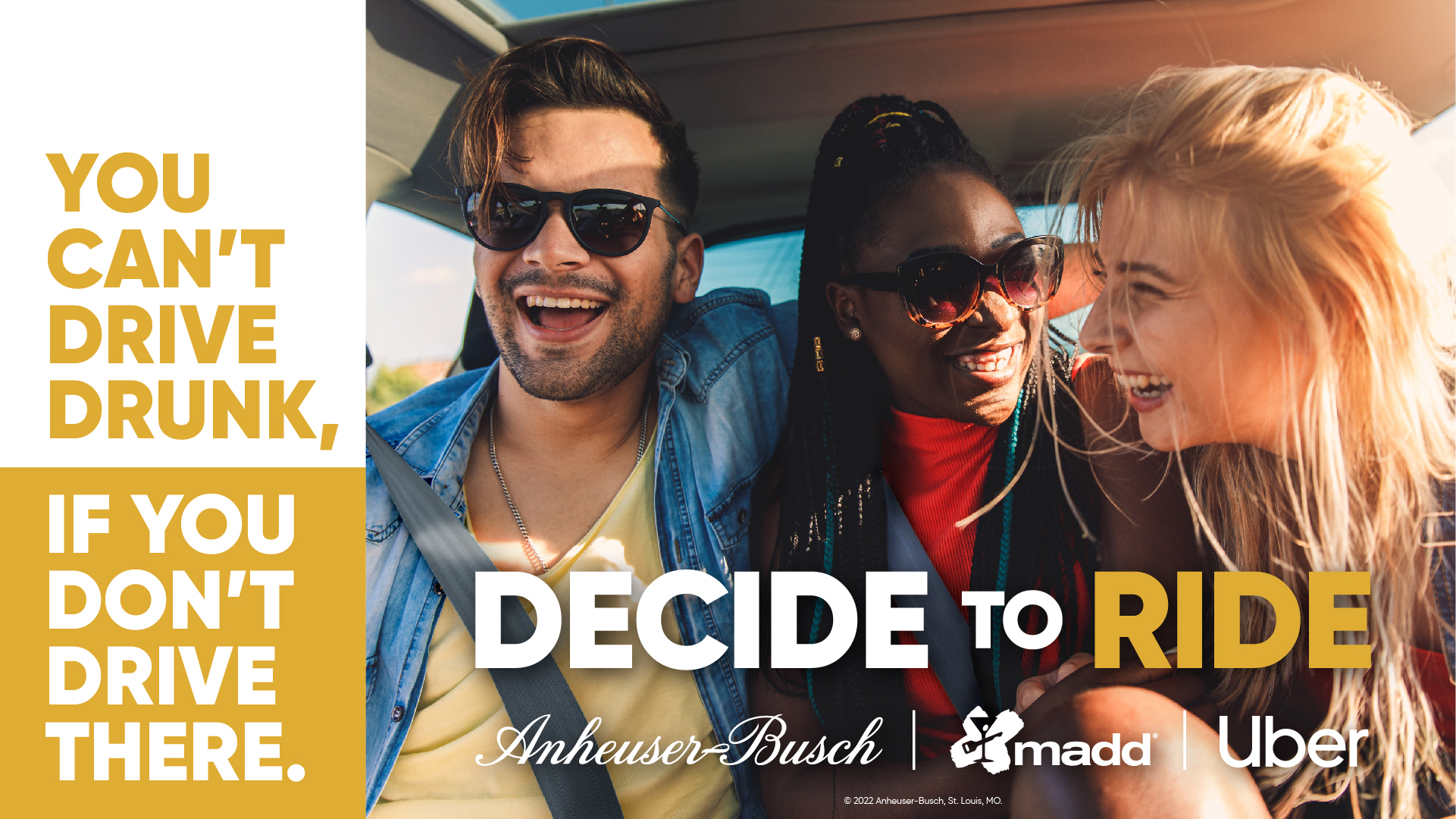 Decide to Ride – first launched in September 2021 – aims to prevent drunk driving by raising awareness of the critical issue of alcohol-impaired driving and encouraging consumers to plan ahead for a sober ride
June 28, 2022 - Today, the country's leading brewer, Anheuser-Busch, the nation's largest drunk driving victim services and advocacy nonprofit, Mothers Against Drunk Driving (MADD), and ridesharing platform, Uber, announced they are partnering with the New York State Department of Motor Vehicles and Governor's Traffic Safety Committee (GTSC) to help combat alcohol-impaired driving in Buffalo and across the state this summer.
This Fourth of July through Labor Day, the public-private partnership with the New York State Governor's Traffic Safety Committee will encourage consumers to end alcohol-impaired driving by planning ahead for a safe ride all summer long. With increased risks of drunk driving during the summer holidays, this joint effort is critical for raising awareness and promoting road safety by providing ridesharing opportunities to prevent drunk driving.
"It is a personal privilege to have the opportunity to partner with MADD and industry giants like Anheuser-Busch and Uber on a project that will make my hometown community safer," said Governor's Traffic Safety Committee Chair and New York State Department of Motor Vehicles Commissioner Mark J.F. Schroeder. "Impaired driving is 100 percent preventable, so for the safety of your family and mine, I urge you, please have a plan.
"As millions of New Yorkers look forward to finally celebrating the summer season, it's imperative that they have a safe, reliable transportation plan, for both themselves and their family and friends," said New York State Senator Tim Kennedy, Chair of the Senate Transportation Committee. "Through this initiative, Mothers Against Drunk Driving, Anheuser-Busch, and Uber are proactively aiming to eliminate impaired driving by incentivizing alternative options, and underscoring the importance of planning ahead."
Anheuser-Busch, MADD and Uber joined forces and launched the Decide to Ride campaign in September 2021 as part of a groundbreaking first-of-its-kind coalition aimed at bringing an end to drunk driving.
The Decide to Ride campaign focuses on driving behavior change by connecting with consumers before they even take that first sip – "because you can't drive drunk, if you don't drive there." Consumers who are aware of the campaign are over 40 percent more likely to use a ridesharing app to avoid alcohol-impaired driving, according to early internal campaign research developed by the coalition.
Building on last year's launch, Anheuser-Busch, MADD and Uber are partnering with the New York State Governor's Traffic Safety Committee to bring the campaign to life this summer through digital creative, print and out-of-home advertising, promotions at local events, and signage at retailers sharing a key message for consumers – "If You Drink, Don't Drive. Decide to Ride."
The partnership will also be providing locally available discounts on Uber rides in Buffalo to help consumers plan ahead for a safe ride to and from their Fourth of July celebrations.
"This Fourth of July, we're proud to celebrate our nation by helping to keep our roads and communities safe through our Decide to Ride campaign," said Colleen Lucas, Vice President of Community Impact at Anheuser-Busch. "In partnership with the New York State Governor's Traffic Safety Committee, we're eager to connect with consumers in Buffalo during the summer holidays to remind them to always plan ahead for a safe ride to help end alcohol-impaired driving."
"We at MADD want everyone in the Buffalo area to celebrate the July Fourth weekend with a plan for a non-drinking driver to get them home safely," said MADD National President Alex Otte. "Before taking the first sip of alcohol, plan your safe mode of transportation - rideshare, public transit, taxi or a non-drinking friend or family member - every time."
"As studies show, Uber has had a direct role in reducing alcohol-related traffic fatalities throughout the US," said Kristin Smith, Head of Road Safety Policy at Uber. "This Independence Day, we are proud to partner with MADD, Anheuser-Busch, and the New York State Governor's Traffic Safety Committee to be part of the solution to end drunk driving and remind everyone to make a plan if they decide to drink."
ABOUT ANHEUSER-BUSCH
At Anheuser-Busch, our purpose is to create a future with more cheers. We are always looking to serve up new ways to meet life's moments, dream big to move our industry forward, and make a meaningful impact in the world.  We hope to build a future that everyone can celebrate, and everyone can share.  For more than 160 years, Anheuser-Busch has carried on a legacy of brewing great-tasting, high-quality beers that have satisfied beer drinkers for generations. Today, we own and operate more than 120 facilities, including breweries, wholesaler distribution centers, agricultural facilities and packaging plants, and have more than 19,000 colleagues across the United States. We are home to several of America's most loved beer brands, including Budweiser, Bud Light, Michelob ULTRA and Stella Artois, as well as a number of regional brands that provide beer drinkers with a choice of the best-tasting craft beers in the industry. From responsible drinking programs and emergency drinking water donations to industry-leading sustainability efforts, we are guided by our unwavering commitment to supporting the communities we call home. For more information, visit www.anheuser-busch.com or follow Anheuser-Busch on LinkedIn, Twitter, Facebook and Instagram.
ABOUT MOTHERS AGAINST DRUNK DRIVING (MADD)
Founded in 1980 by a mother whose daughter was killed by a drunk driver, Mothers Against Drunk Driving® (MADD) is the nation's largest nonprofit working to end drunk driving, help fight drugged driving, support the victims of these violent crimes and prevent underage drinking. MADD has helped to save more than 400,000 lives, reduce drunk driving deaths by more than 50 percent and promote designating a non-drinking driver. MADD's Campaign to Eliminate Drunk Driving® calls for law enforcement support, ignition interlocks for all offenders and advanced vehicle technology. MADD has provided supportive services to nearly one million drunk and drugged driving victims and survivors at no charge through local victim advocates and the 24-Hour Victim Help Line 1-877-MADD-HELP. Visit www.madd.org or call 1-877-ASK-MADD.
ABOUT UBER
Uber's mission is to create opportunity through movement. We started in 2010 to solve a simple problem: how do you get access to a ride at the touch of a button? More than 25 billion trips later, we're building products to get people closer to where they want to be. By changing how people, food, and things move through cities, Uber is a platform that opens up the world to new possibilities.
Media Contacts
Press Contacts
Media@anheuser-busch.com is a single point of contact for journalists. If you are a member of the press and have an exclusively news-related inquiry, please direct it to this address. For other questions or requests, please click here.