Kona Big Wave Debuts Brand Relaunch and Encourages Fans to "Bring the Aloha" with Vibrant New Campaign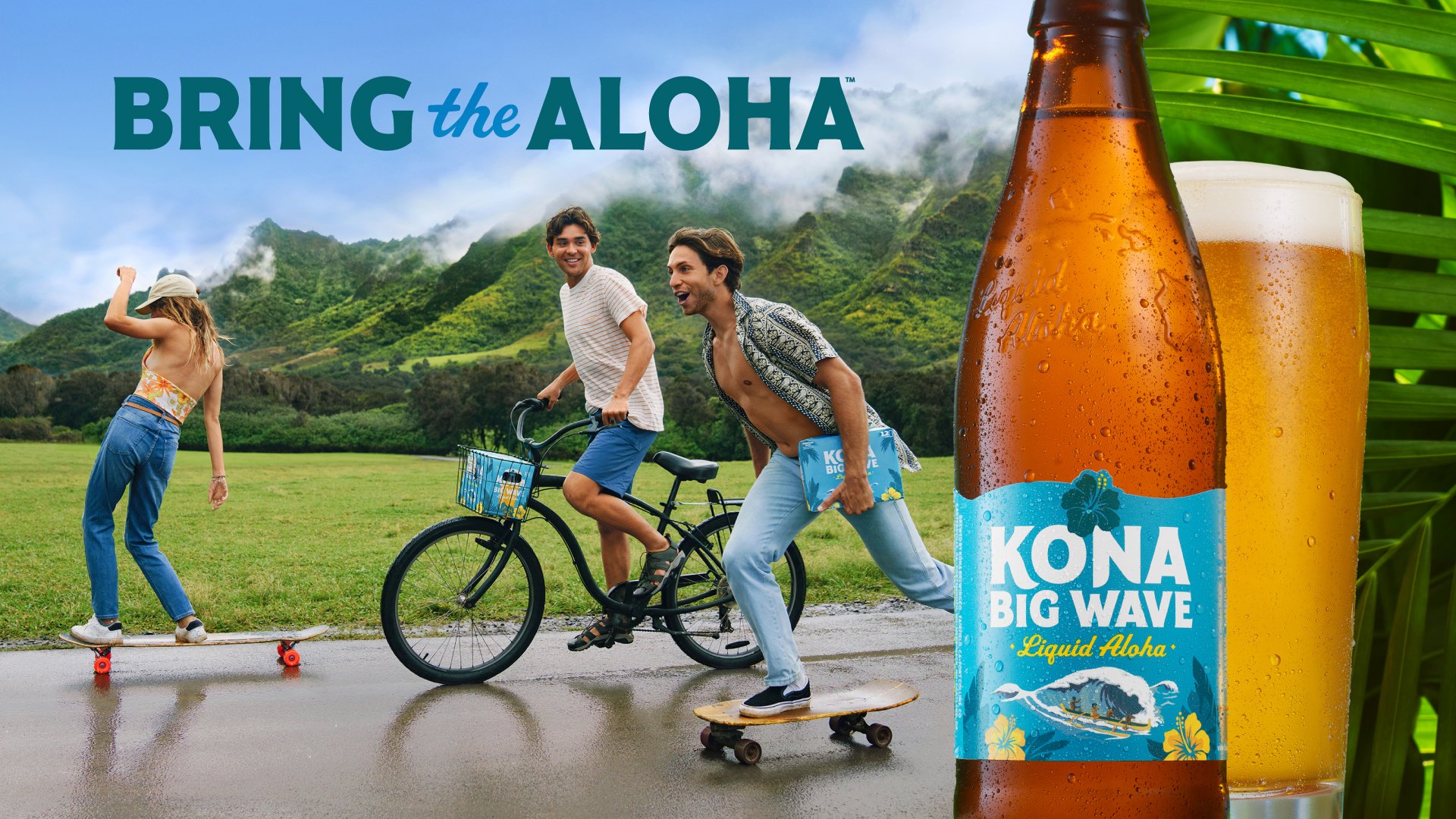 The campaign for the beloved beer founded in Hawaii includes new branding and four new commercials
New York, NY – May 16, 2023 – Kona Big Wave, the premium island-style beer known for its refreshing taste, is encouraging fans to "Bring the Aloha" with a campaign celebrating the brand's relaunch that features a brand-new logo, refreshed packaging design and four new commercials – all centered around a new brand world firmly rooted in Hawaii's powerful aloha spirit.
After nearly 30 years of outpacing Craft beer growth, Kona Big Wave is poised to break out as the next premium lifestyle brand and introduce the winning beer to broader audiences around the country. With massive ambitions to be one of the leaders within the premium beer space, Kona Big Wave is catapulting into a new era this summer with a full relaunch that amplifies its core brand purpose of evoking the "spirit of Aloha" and revitalizes its brand world to build a more universal emotional appeal.
As part of these efforts, Kona Big Wave will rebrand from Kona Brewing Co. and debut a new logo and packaging design that heroes the brand's distinct hibiscus flower and features a more modern, simple aesthetic and brighter color palette. This packaging refresh stays true to the DNA of Big Wave, while moving toward vibrant and aspirational imagery to keep with its easy-drinking liquid, ultimately paving the way for Kona Big Wave to transcend the craft beer segment and compete directly with the premium category.
To celebrate the launch of the new brand world, Kona's "Bring the Aloha" campaign showcases the shared bonds that connect us to one another and to the natural world, inviting people to experience the island lifestyle, without a specific destination; a paradise that's universally accessible, not distant; and a sense that with Kona Big Wave, you've arrived, no matter where you are.
Shot in Oahu, the campaign will come to life through commercials, paid social media, web, OOH, trade and more, with dynamic imagery that evokes the vibrancy and vitality of Hawaii, where Kona was founded. Anchored by four new commercials, each one shows how genuine, magical moments of harmony are created with each other and the natural world when you choose to "Bring the Aloha":
"Kona Big Wave has always been beloved for its authentic connection to the Hawaiian lifestyle and its easy-drinking, island-inspired taste," said Meredith Ruskin, VP of Marketing for Kona Big Wave. "Now, with a modernized brand look and a new campaign that celebrates and shares stories of the Aloha spirit, we will be able to 'Bring the Aloha' to even more fans around the country."
As part of the new campaign, Kona Big Wave will be celebrating 'Acts of Aloha' all summer long, stay tuned for more details.
For more information about Kona Big Wave, "Bring the Aloha" and the "Acts of Aloha" Contest, visit konabigwave.com, and follow @KonaBigWave on Instagram, Facebook and Twitter.
###
About Kona Big Wave
Founded under the golden sun of the Big Island of Hawaii in 1994, Kona Big Wave embraces the aloha spirit while spreading its foundations of balance, respect for nature, authenticity, and building community with your ohana. Today, the easy-drinking, island-style premium beer brings the aloha across the mainland U.S. and more than 30 countries globally. For more information visit konabigwave.com, and follow @KonaBigWave on Instagram, Facebook and Twitter.
About Anheuser-Busch
At Anheuser-Busch, our purpose is to create a future with more cheers. We are always looking to serve up new ways to meet life's moments, dream big to move our industry forward, and make a meaningful impact in the world. We hope to build a future that everyone can celebrate, and everyone can share. For more than 160 years, Anheuser-Busch has carried on a legacy of brewing great-tasting, high-quality beers that have satisfied beer drinkers for generations. Today, we own and operate more than 120 facilities, including breweries, wholesaler distribution centers, agricultural facilities and packaging plants, and have more than 19,000 colleagues across the United States. We are home to several of America's most loved beer and beyond beer brands, including Michelob ULTRA, Cutwater Spirits, Stella Artois, Budweiser and Bud Light as well as a number of regional brands that provide beer drinkers with a choice of the best-tasting craft beers in the industry. From responsible drinking programs and emergency drinking water donations to industry-leading sustainability efforts, we are guided by our unwavering commitment to supporting the communities we call home. For more information, visit www.anheuser-busch.com or follow Anheuser-Busch on LinkedIn, Twitter, Facebook, and Instagram.

Press Contacts
Media@anheuser-busch.com is a single point of contact for journalists. If you are a member of the press and have an exclusively news-related inquiry, please direct it to this address. For other questions or requests, please click here.