Michelob ULTRA Toasts to the Next Generation of Golf Culture, Unveiling the Most Ambitious and Integrated Campaign in the History of the Big Game with a Star-Studded Line Up and First Ever Partnerships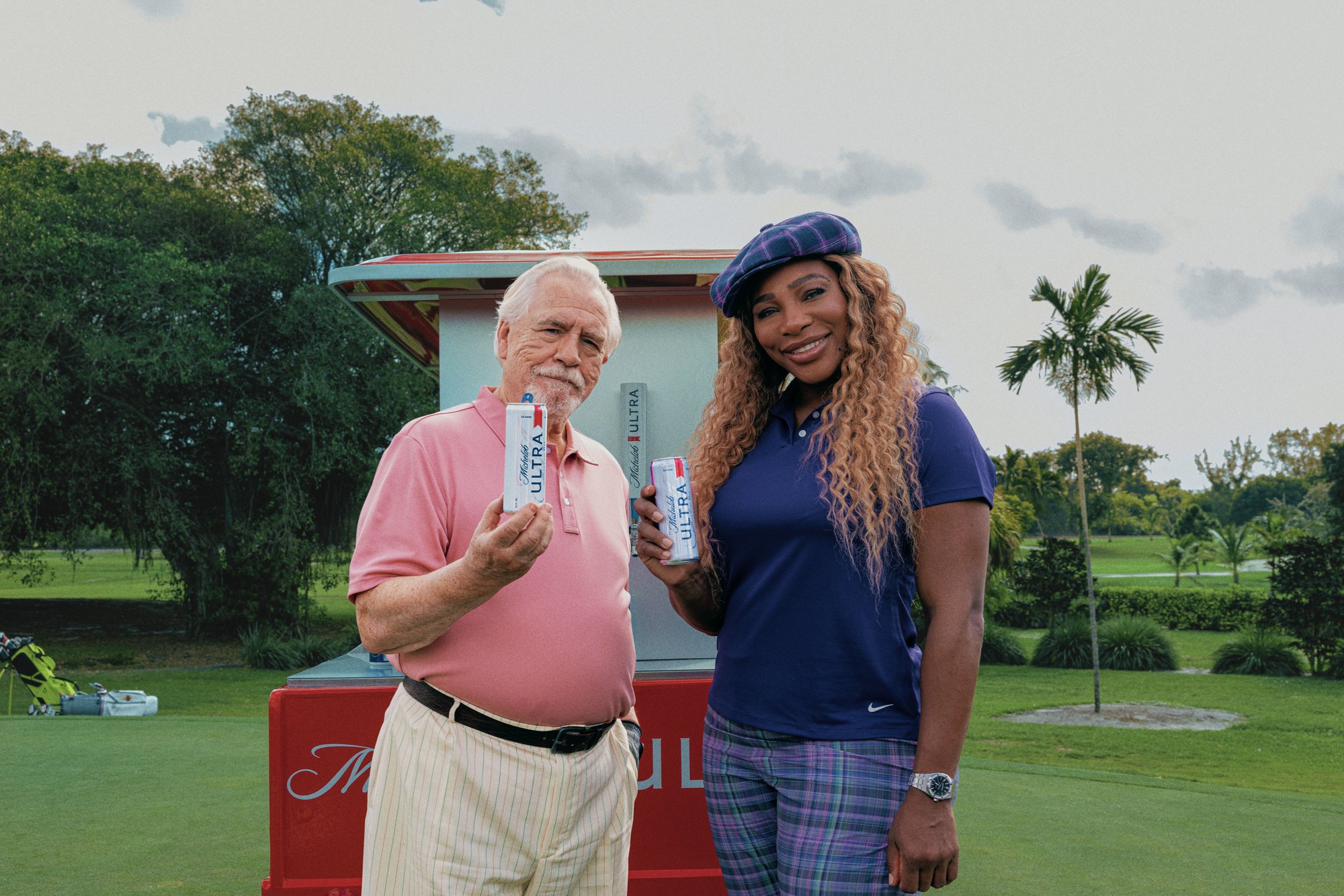 The Superior Light Beer Pairs Serena Williams & Brian Cox in Caddyshack Inspired "New Members Day," Brings Fans Inside the World of Golf with An Epic Netflix Partnership, Debuts First-Ever Shoppable Ad with Instacart, and More
NEW YORK, February 1, 2023 – Michelob ULTRA, the second-largest beer brand in the country, is teeing up superior enjoyment for all and unveiling the brand's boldest campaign in its history on football's biggest stage. During the Big Game and beyond, Michelob ULTRA is celebrating a new era for the sport by championing equal enjoyment for all.
Michelob ULTRA is once again putting joy front and center with two golf-themed ads that feature legendary athletes and entertainers hitting the links, and will introduce groundbreaking partnerships with Netflix, Instacart and golf apparel brand Devereux Golf for a truly integrated campaign across digital, fashion, sports, entertainment, and ecommerce which the brand will build upon throughout the year
Bringing the A-Game
"New Members Day," the brand's 60-second ad, brings bold new energy to the links when legendary athlete Serena Williams goes head-to-head with Emmy award-winning actor Brian Cox. The pair are joined by superstar athletes from multiple sports including Jimmy Butler, Alex Morgan, Tony Romo, Nneka Ogwumike, and Canelo Alvarez, taking over Bushwood Country Club in a nostalgic nod to the classic golf movie, Caddyshack.
The instantly recognizable spot celebrates the next generation of golfers with inclusivity at its core. For the second year in a row, the spot features an equal number of female and male athletes, as a continuation of brand's $100M commitment to gender equality in sports.
"Golf is going through an exciting transformation to become more inclusive and more joyful, which perfectly aligns with Michelob ULTRA's point of view and as such ended up serving as inspiration for our campaign this year," said Ricardo Marques Vice President of Marketing Michelob ULTRA. "Beyond entertaining we're looking to engage our audience with an approach that combines creativity, commercial integration and new partnerships; we're incredibly excited."
An Ace of a Partnership
Michelob ULTRA and Netflix are teaming up to highlight the new Netflix docuseries, 'Full Swing' which follows a diverse group of professional golfers across an entire PGA Tour season. The dynamic partnership brings together two of the biggest brands in sports and entertainment that have a shared ambition to celebrate the next generation of golf culture.
Viewers will join professional golfer Rickie Fowler, NFL legend Tony Romo and U.S. Soccer star Alex Morgan on the course as they receive an early look at the upcoming Netflix docuseries, "Full Swing." The spot will include a QR code that fans can scan to unlock early access to the first episode of "Full Swing," which will go live immediately following the game and will be available until 11:59 p.m. ET on Monday, February 13.
"Full Swing chronicles a pivotal moment in golf and we can't wait for our fans to immerse themselves into the series and the lives of these talented athletes," said Magno Herran, Vice President, Marketing Partnerships at Netflix. "Our members are always looking for unique ways to experience their favorite show or film and partnering with Michelob ULTRA is an incredible way to bring the two brands together to share the joy of the game."
Can't Miss Collaborations
For the first time in Anheuser-Busch history, Michelob ULTRA is making the big game shoppable, bringing consumers into the world of Bushwood Country Club with limited-edition Michelob ULTRA Golf Packs and a collaboration with Instacart.
Enjoying a cold one while cheering on your favorite team is par for the course and stocking the fridge is now easier than ever. A first for both Anheuser-Busch and Instacart, fans can purchase Michelob ULTRA through a series of shoppable 'stock up' TVCs airing ahead of the Big Game. Instacart will bring the partnership to life through shoppable media on their app, email marketing, push notifications, and social posts, reminding users that Instacart is their ultimate shopping destination for all football viewing party needs.
"Michelob ULTRA is a clear fan favorite and the number one most-purchased beer on Instacart for the last nine months," said Instacart CMO Laura Jones. "We're thrilled to partner with Michelob ULTRA for our first major, cross-channel, co-marketing campaign during the NFL playoffs to help consumers stock up on Michelob ULTRA and other game day essentials, which can be delivered right to their doorsteps in as fast as one hour."
Heading to the Pro Shop
Ensuring that the next generation of golfers will be showcased in style, the brand is expanding its partnership with innovative and inclusive golf apparel brand Devereux Golf. Alongside Michelob ULTRA, Devereux Golf will launch its first-ever women's line, a continuation of Michelob ULTRA's commitment to gender equality in sports. The limited-edition collection inspired by retro golf culture features several items designed to be worn on or off the golf course, including the "Stand Out Club Polo," the "Superior Club Cardigan," the "Sunday Best Sweater Vest" and more.
In another first for Anheuser-Busch the Big Game spots will be shoppable, and viewers can take home select pieces that are featured in the commercials.
The Michelob ULTRA x DVRX Collection will be available starting February 1 on michelobultra.com/ultraclub and dvrxthreads.com.
Hitting the Links in Phoenix
This year, the home to the big game is also home to some of the best golf courses in the country. Naturally, Michelob ULTRA will take over the greens in Phoenix. In partnership with Netflix, the brands will host an epic party, featuring performances by A-List appearances by Michelob ULTRA athletes and a golf face-off for the ages.
Netflix and Michelob ULTRA will also premiere "Full Swing" during a private screening that will debut the same first episode unlocked by the QR code featured in the "Episode Gossip" TVC.
The 19th Hole
The beer brand will continue to open doors for more people to participate in golf, giving fans the opportunity to win one-of-a-kind golf prizes for themselves and their friends, PLUS early access to the first episode of "Full Swing" following the game. Prizes include rounds of golf at exclusive TPC golf courses, tickets to PGA Tour events, or the grand prize: a chance to witness golf history at three of the most premier golf tournaments in the U.S.
Fans can access this by scanning the QR code featured on the newly released limited-edition Michelob ULTRA Golf Packs and by following the brand's social channels.
To view both of Michelob ULTRA's spots, "New Members Day" and "Episode Gossip" visit Michelob ULTRA's YouTube page. For the second year in a row, Michelob ULTRA's Big Game commercials were directed by Oscar-nominated cinematographer, Rachel Morrison, and created by Wieden + Kennedy New York.
For more information, visit MichelobULTRA.com/ULTRAClub and follow @MichelobULTRA on Facebook, Twitter, Instagram and YouTube.
###
About Michelob ULTRA
Introduced in 2002, Michelob ULTRA is the No. 2 beer in the industry by volume. With just 95 calories, 2.6 carbs and no artificial flavors or colors, it is a superior light beer that celebrates the active, balanced lifestyle of its drinkers that includes both fitness and fun. Michelob ULTRA's choice of grains and extended mashing process leads to its refreshing taste and fewer carbohydrates. It is brewed with the finest barley malt, rice, hops, and a pure-cultured yeast strain, all of which reflect Anheuser-Busch's commitment to brewing quality. Michelob ULTRA reminds you to always drink, and sweat, responsibly.
About Netflix
Netflix is one of the world's leading entertainment services with 231 million paid memberships in over 190 countries enjoying TV series, films and games across a wide variety of genres and languages. Members can play, pause and resume watching as much as they want, anytime, anywhere, and can change their plans at any time.
About Instacart
Instacart, the leading grocery technology company in North America, works with grocers and retailers to transform how people shop. The company partners with more than 1,000 national, regional, and local retail banners to facilitate online shopping, delivery and pickup services from more than 75,000 stores across North America on the Instacart Marketplace. Instacart makes it possible for millions of people to get the groceries they need from the retailers they love, and for hundreds of thousands of Instacart shoppers to earn by picking, packing and delivering orders on their own flexible schedule. The Instacart Platform offers retailers a suite of enterprise-grade technology products and services to power their e-commerce experiences, fulfill orders, digitize brick-and-mortar stores, provide advertising services, and glean insights. With Instacart Ads, thousands of CPG brands – from category leaders to emerging brands – partner with the company to connect directly with consumers online, right at the point of purchase. With Instacart Health, the company is providing tools to increase nutrition security, make healthy choices easier for consumers, and expand the role that food can play in improving health outcomes. For more information, visit www.instacart.com/company, and to start shopping, visit www.instacart.com. For anyone interested in becoming an Instacart shopper, visit https://shoppers.instacart.com/.
About Devereux Golf
Devereux is a cultural golf brand founded in 2013 by brothers, Robert and Will Brunner, whose aim is to bring a fresh take to the stale world of golf. At Devereux, we love the game, respect the sport, and honor the traditions, but we welcome the next generation of golfers who are breaking stigmas and outdated standards. As golf culture evolves, and younger more diverse players engage in the game, Devereux is committed to offering apparel and accessories that cater to them- both from a style perspective and price point. Our apparel represents the ever-welcomed melding of streetwear and golf; a combination that inspired us as a brand to move away from the country club scene and motivated us to explore what was then unknown territory for a golf brand. As one of the only direct-to-consumer golf apparel brands, we have the freedom to create quality clothing and accessories for the kind of golf we like; the kind where you untuck your shirt, wear your hat backwards and leave your belt at home, but utilizing the functional fabrics of golf clothing. Follow along with the movement by visiting dvrxthreads.com or follow @DevereuxGolf on Instagram, Facebook, or TikTok.
About Anheuser-Busch
At Anheuser-Busch, our purpose is to create a future with more cheers. We are always looking to serve up new ways to meet life's moments, dream big to move our industry forward, and make a meaningful impact in the world. We hope to build a future that everyone can celebrate, and everyone can share. For more than 160 years, Anheuser-Busch has carried on a legacy of brewing great-tasting, high-quality beers that have satisfied beer drinkers for generations. Today, we own and operate more than 120 facilities, including breweries, wholesaler distribution centers, agricultural facilities and packaging plants, and have more than 19,000 colleagues across the United States.
We are home to several of America's most loved beer and beyond beer brands, including Michelob ULTRA, Cutwater Spirits, Stella Artois, Budweiser and Bud Light as well as a number of regional brands that provide beer drinkers with a choice of the best-tasting craft beers in the industry. From responsible drinking programs and emergency drinking water donations to industry-leading sustainability efforts, we are guided by our unwavering commitment to supporting the communities we call home. For more information, visit www.anheuser-busch.com or follow Anheuser-Busch on LinkedIn, Twitter, Facebook, and Instagram.

Press Contacts
Jessica Thorpe, Michelob ULTRA | media@anheuser-busch.comJackie Baez | jbaez@webershandwick.com
Media@anheuser-busch.com is a single point of contact for journalists. If you are a member of the press and have an exclusively news-related inquiry, please direct it to this address. For other questions or requests, please click here.