NÜTRL Vodka Seltzer Taps Chloe Fineman To Star In First National, Integrated Campaign: "NÜTRL. The One With The Umlaut."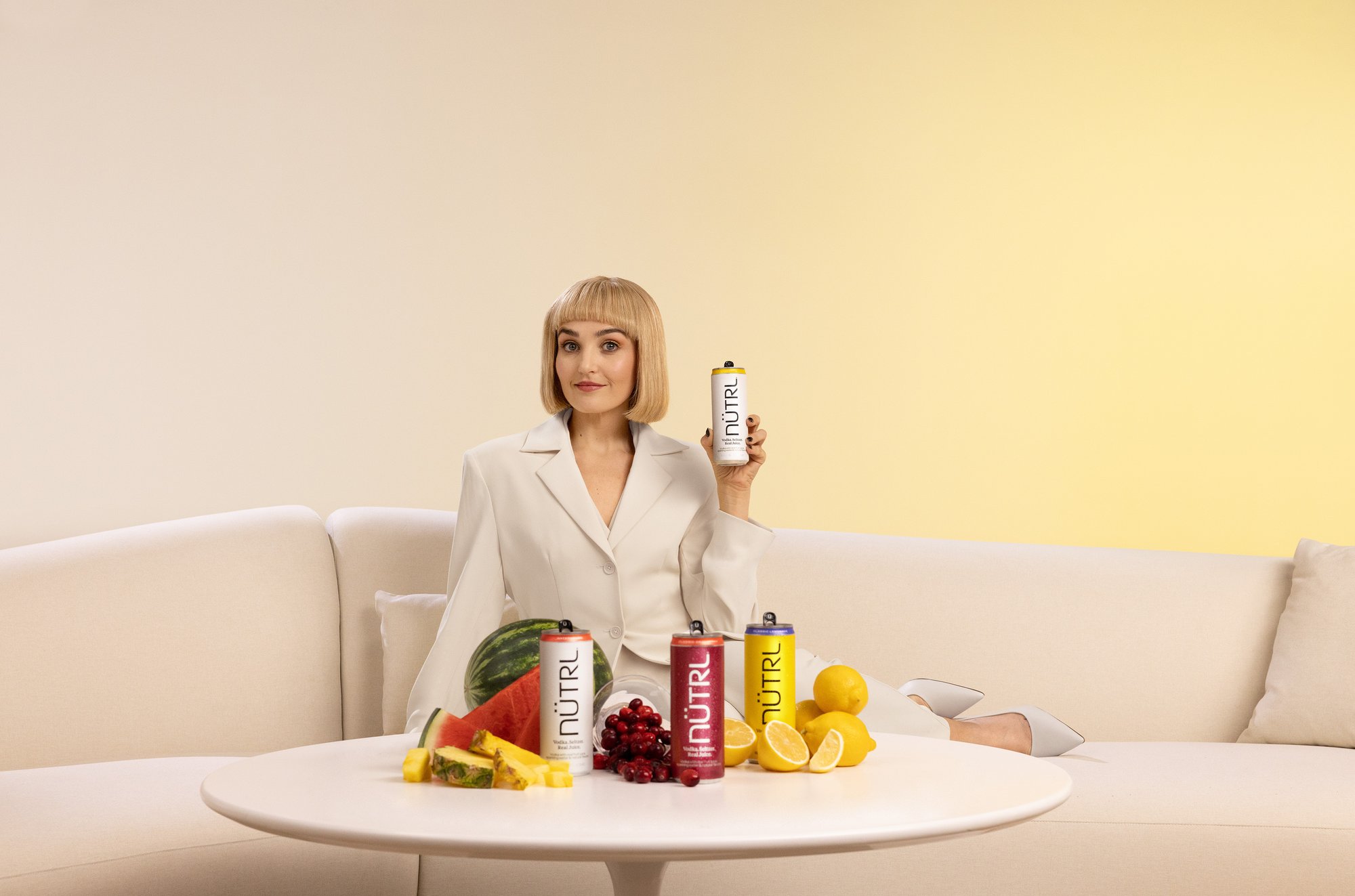 Saturday Night Live Star Debuts as Günter, NÜTRL's First Vodka Seltzer Sommelier
New York, NY - February 28, 2023 - Today, NÜTRL Vodka Seltzer – the #2 spirits-based seltzer brand on the market - announces its first national campaign, "NÜTRL. The One with the Umlaut," featuring actress and Saturday Night Live star Chloe Fineman as Günter, a cheeky vodka seltzer sommelier and the brand's new spokesperson. The campaign serves as an introduction to NÜTRL's quirky personality and heroes the brand's superior, light and refreshing taste.
Made with vodka, seltzer and real juice, NÜTRL is purposeful about every ingredient and aspect of the brand, which is why Günter – who is obsessed with great taste and intentional choices – has made it her mission to introduce the world to this delicious spirits-based seltzer. Throughout the campaign, Günter appears in sleek, monochromatic looks with simple pops of color, paying homage to NÜTRL's real fruit flavors and distinct, uncomplicated aesthetic.
"I was very intrigued when NÜTRL came to me and asked to help develop their new spokesperson," says Fineman. "I had a ton of fun working with the team to bring to life this wacky yet instantly lovable vodka seltzer enthusiast who appreciates the finer things in life and knows what it takes to make a quality drink."
This new creative campaign was developed in partnership with The Martin Agency and highlights how everything about NÜTRL is in service to delivering a quality, great-tasting spirits-based seltzer. Chloe and her writing partner, Casey Thomas Brown, also contributed to the spots, helping to deliver a blend of rehearsed and ad-libbed dialogue with NÜTRL's superior taste and refreshingly simple recipe at the forefront of the narrative.
"It's no secret that consumers are moving away from over-engineered and over-complicated products, but instead are prioritizing quality and taste," says Marisa Siegel, VP of Marketing for NÜTRL Vodka Seltzer. "'NÜTRL. The One with the Umlaut.' campaign perfectly encapsulates the confident simplicity of NÜTRL and the inherent quality you get from its real ingredients, all while showing off the brand's tongue-in-cheek personality."
"NÜTRL. The One with the Umlaut." is an integrated, national campaign that will roll out across the United States on connected TV, digital, OOH, social, radio and retail throughout 2023. The campaign is inclusive of four 15 second spots and four unique 6 second spots that each highlight a hero flavor within the brand's portfolio, including Pineapple, Watermelon, Lemonade and Cranberry. To view NÜTRL's spots, "NÜTRL. The One with the Umlaut," "NÜTRL Pineapple ​'Tropical Baby'," and more, visit NÜTRL's YouTube page.
For more information, visit www.nutrlusa.com and follow along on social media via Instagram (@Nutrl) and Twitter (@nutrl_usa).
###
About NÜTRL
NÜTRL is a vodka-based seltzer made with simple ingredients: vodka, seltzer and real fruit juice. Light and refreshing with a deliciously clean taste, NÜTRL is 100 calories, gluten free and has an ABV of 4.5%. NÜTRL is available nationwide in three variety pack flavors: Fruit Variety Pack, which includes Pineapple, Mango, Raspberry and Watermelon; Lemonade Variety Pack, which includes Classic Lemonade, Blackberry Lemonade, Peach Lemonade and Strawberry Lemonade; and Cranberry Variety Pack, which includes Classic Cranberry, Cranberry Orange, Cranberry Grapefruit and Cranberry Apple.
For more information, visit www.nutrlusa.com or follow along on social media via Instagram (@Nutrl) and Twitter (@nutrl_usa).
About Anheuser-Busch
At Anheuser-Busch, our purpose is to create a future with more cheers. We are always looking to serve up new ways to meet life's moments, dream big to move our industry forward, and make a meaningful impact in the world. We hope to build a future that everyone can celebrate, and everyone can share. For more than 160 years, Anheuser-Busch has carried on a legacy of brewing great-tasting, high-quality beers that have satisfied beer drinkers for generations. Today, we own and operate more than 120 facilities, including breweries, wholesaler distribution centers, agricultural facilities and packaging plants, and have more than 19,000 colleagues across the United States.
We are home to several of America's most loved beer brands, including Budweiser, Bud Light, Michelob ULTRA and Stella Artois, as well as a number of regional brands that provide beer drinkers with a choice of the best-tasting craft beers in the industry. From responsible drinking programs and emergency drinking water donations to industry-leading sustainability efforts, we are guided by our unwavering commitment to supporting the communities we call home. For more information, visit www.anheuser-busch.com or follow Anheuser-Busch on LinkedIn, Twitter, Facebook and Instagram.
SOURCE NÜTRL
Press Contacts
Cody Bryan | Cody.Bryan@Anheuser-Busch.com
Media@anheuser-busch.com is a single point of contact for journalists. If you are a member of the press and have an exclusively news-related inquiry, please direct it to this address. For other questions or requests, please click here.