Stella Artois Reinvigorates Brand, Inviting Consumers to Connect Over meals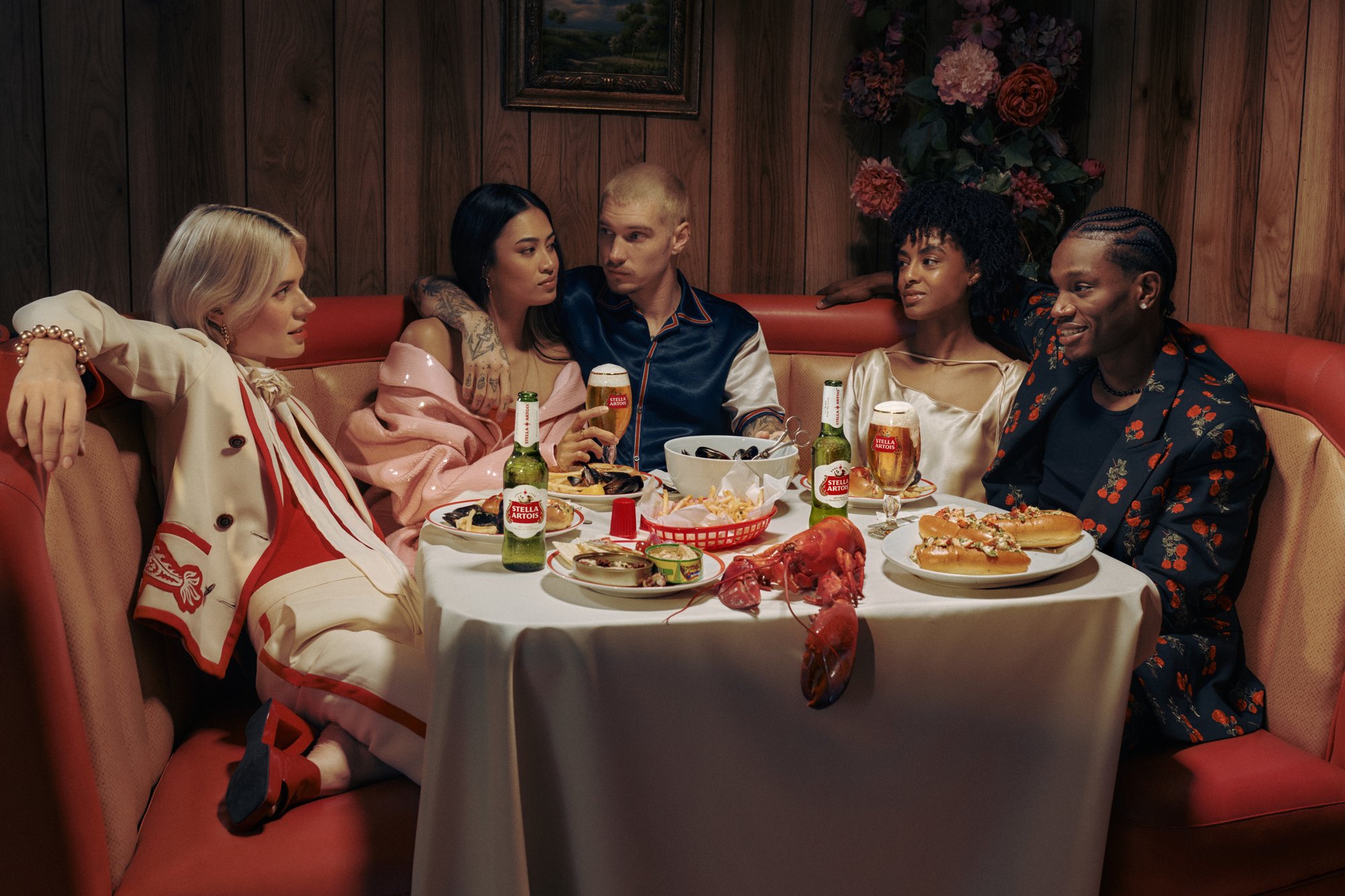 Brand Refresh Begins with Vibrant New Commercial About Creating Authentic, Spontaneous Connections Over Dinner
New York, NY – March 20, 2023 – Stella Artois is kicking off a new era of modernization by building upon its successful "Make Time for the Life Artois" campaign and encouraging 21+ people to connect in meaningful ways around the dinner table. With the new creative, Stella Artois is adding a vibrant flair that is relevant to a new consumer, focusing on real people and authentic connections.
The premium lager is elevating the brand's role at the dinner table with a new commercial and the biggest, most fully integrated 360-campaign in more than half a decade. The stunning new visuals feature friends gathering at a lively dinner table, with an element of fun and spontaneity in each shot. The 'new' Stella Artois table has no fixed address; it could be at a restaurant, at home, or even on a sofa or pizza box lid. With Stella Artois new approach to meals, the dinner table is anywhere we can savor life and express our true selves, with style.
"For ages, dinner served as a time for gathering and connection, and now we have grown accustomed to eating alone. In a world where we strive for connection, Stella Artois' role as a brand to authentically bring people together over dinner is more relevant than ever," said Marcela Garcia, Vice President of Marketing for Stella Artois. "Throughout the course of the year, we'll leverage the power of Stella Artois to create meaningful connections over dinner and around casual meals to become a mealtime staple."
In "Table Drop," Stella Artois' newest commercial, the main character is dining alone and enjoying a Stella Artois in her apartment. Her table drops through the floor into the apartment below her, uniting her with her neighbor who is also eating dinner alone. With the table drop, Stella Artois serves as a catalyst to connect her with a friend through an unexpected drop. This happens through multiple floors of the apartment building, bringing people together for dinner and a Stella Artois, ending with a massive celebration with all the neighbors. The new spot perfectly exemplifies how unplanned and unexpected moments can lead to fun and meaningful connections thanks to Stella Artois. The latest spot can be viewed in full here: https://www.youtube.com/watch?v=BEfttG7C_ro
Stella Artois is maximizing "Make Time for the Life Artois" across multiple channels to inspire every consumer to connect around the table and drive conversation around meals. The brand is launching campaigns with Yelp, Instacart, and Uber Eats. Yelp will help consumers discover nearby restaurants and bars, and encourage them to make a reservation and connect with a friend with Stella Artois. Instacart will feature Stella Artois' "Let's Do Dinner" hub on its brand page, encouraging consumers to add a six-pack to their grocery cart, enabling consumers to savor a delicious weeknight meal together with Stella Artois. For those who prefer to have their dinner delivered, Stella Artois is partnering with Uber Eats to elevate dinner at home with Stella Artois. Featuring an ad on the homepage, users are encouraged to stock up on Stella Artois after ordering their meal.
For more information about Stella Artois and "Make Time for the Life Artois" visit, www.stellaartois.com, and follow @StellaArtoisUSA on Instagram and Facebook, and @StellaArtois on Twitter.
About Stella Artois
Stella Artois® is a Belgian-style lager and part of a brewing tradition of crafting the finest lager with quality ingredients since 1366. Known for its malty middle and crisp finish delivering a full flavor and a hint of bitterness, this beer is recognized internationally for its excellence and taste. Along with the classic lager, Stella Artois Liberté offers the same refreshing taste with zero alcohol. Stella Artois is best enjoyed in the iconic Chalice according to the 3-Step Pouring Ritual to guarantee a perfect experience of this gold standard lager. Visit www.stellaartois.com for more information.
About Anheuser-Busch
At Anheuser-Busch, our purpose is to create a future with more cheers. We are always looking to serve up new ways to meet life's moments, dream big to move our industry forward, and make a meaningful impact in the world. We hope to build a future that everyone can celebrate, and everyone can share. For more than 160 years, Anheuser-Busch has carried on a legacy of brewing great-tasting, high-quality beers that have satisfied beer drinkers for generations. Today, we own and operate more than 120 facilities, including breweries, wholesaler distribution centers, agricultural facilities and packaging plants, and have more than 19,000 colleagues across the United States. We are home to several of America's most loved beer brands, including Budweiser, Bud Light, Michelob ULTRA and Stella Artois, as well as a number of regional brands that provide beer drinkers with a choice of the best-tasting craft beers in the industry. From responsible drinking programs and emergency drinking water donations to industry-leading sustainability efforts, we are guided by our unwavering commitment to supporting the communities we call home. For more information, visit www.anheuser-busch.com or follow Anheuser-Busch on LinkedIn, Twitter, Facebook and Instagram.

Press Contacts
Allison Wilson | awilson@webershandwick.comLily Herring | media@anheuser-busch.com
Media@anheuser-busch.com is a single point of contact for journalists. If you are a member of the press and have an exclusively news-related inquiry, please direct it to this address. For other questions or requests, please click here.