Stella Artois to Host the World's Most Fascinating Dinner to Celebrate Brand's New "Let's Do Dinner" Campaign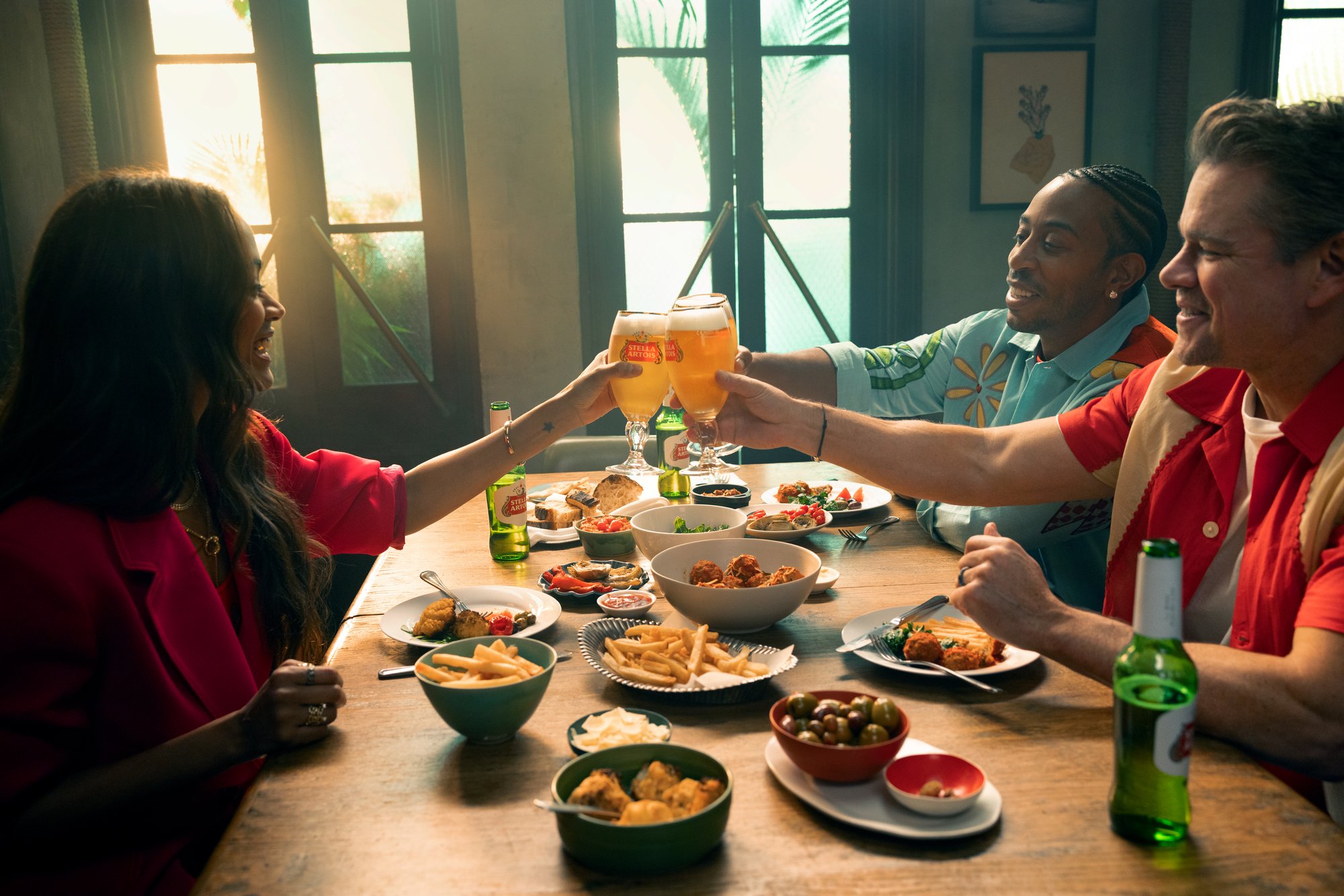 Fans Have a Chance to Win a Coveted Evening with Matt Damon, Zoe Saldaña, Ludacris, Jeremy Allen White, Frances Tiafoe and Other Global Icons
New York, NY – May 22, 2023 – Stella Artois is celebrating its new "Let's Do Dinner" campaign, inspiring people to get together to eat, drink and connect over a delicious meal and great conversation with a new star-studded commercial, brought to life with the World's Most Fascinating Dinner later this year. The latest ad, titled "Let's Do Dinner," features Matt Damon, Zoe Saldaña, Jeremy Allen White and Ludacris toasting Stellas and inviting fans to the World's Most Fascinating Dinner in support of Water.org in New York City, hosted by the A-list stars.
Stella's "Let's Do Dinner," Inspires People to Gather Together
With "Let's Do Dinner," Stella Artois is driving authentic connection and conversation around the dinner table, serving as a continuation of its recent "Make Time for the Life Artois" brand refresh. This campaign inspires people to have a conversation over a meal with great food, good friends, and of course, Stella Artois, to create lasting memories. "Let's Do Dinner" will be one of the most fully-integrated campaigns in the past five years for Stella, maximizing all channels to continue driving the brand's message around the importance of connection over meals.
"We are thrilled to dive into this next step in Stella's journey, reinforcing the brand's role in driving authentic connection and conversation around meals," said Marcela Garcia, Vice President of Marketing for Stella Artois. "Stella wants to make dinner an occasion to look forward to again, and pour life back into the table. We are excited to invite consumers to win a seat at an epic, one-of-a-kind experience at the World's Most Fascinating Dinner, bringing together some of the biggest global icons to underscore the importance of connection around the table."
"Let's Do Dinner," Stella's New Star-Studded TV Commercial
Stella Artois' latest commercial, "Let's Do Dinner," is grounded in the question of who their celebrity partners would invite to dinner. The spot opens with Zoe Saldaña asking, "If you could invite anyone to dinner, who would it be?" and shows Matt Damon, Ludacris, Jeremy Allen White and Zoe going back and forth on their dream dinner guests. The commercial wraps with the stars inviting 21+ consumers to join them at The World's Most Fascinating Dinner, including a QR code to learn how to enter. The spot will run from Memorial Day to Labor Day across the US.
"I'm happy to partner with Stella Artois for its 'Let's Do Dinner' campaign. I love time spent with friends and family, especially over a good meal, and I can't wait to host this event and have the opportunity to spend time with fans," said Zoe Saldaña. "It's going to be a special night, and a great reminder that meals are a really important part of human connection."
Stella Artois Brings Campaign to Life with the World's Most Fascinating Dinner
With the World's Most Fascinating Dinner, Stella Artois reinvigorates the classic question, "If you could have dinner with anyone, who would it be?" offering 21+ consumers a chance to win a seat at a once-in-a-lifetime dinner party on September 21st in New York City. Led by the stars of the commercial, Zoe Saldaña, Matt Damon, Ludacris, and Jeremy Allen White, as well as tennis-star Francis Tiafoe and other global icons, this dinner will give fans a chance to connect and engage with some of the biggest stars on the planet over a delicious meal and Stellas.
"It's been great working with Stella Artois on this campaign," said Jeremy Allen White. "The campaign promotes togetherness with dinner and food, what's not to love? I'm looking forward to being part of this campaign throughout the summer, leading up to the big dinner event in September."
To win a chance for a seat at the table, 21+ fans can check out all special edition 12-pack bottles and cans, featuring Stella's celebrity partners and a QR code to learn how to enter, or visit www.stellaartois.com/letsdodinner. The 15 grand prize winners, announced the week of Sept. 4, will receive travel and accommodation for two, along with two seats to The World's Most Fascinating Dinner. Alongside the Grand Prize winners, Stella is giving fans chances to win instant prizes like Stella merchandise and $25 Uber Eats gift cards through the "Let's Do Dinner" partnership.
The Let's Do Dinner campaign is also a celebration of Stella Artois and Water.org's partnership to empower people in need around the world with access to safe water, giving them time back so they can connect over dinner. The partnership, which started in 2015, has helped provide access to safe water for more than 4.5 million people.
For more information about Stella Artois and "Let's Do Dinner" visit, www.stellaartois.com, and follow @StellaArtoisUSA on Instagram and Facebook, and @StellaArtois on Twitter.
Let's Do Dinner Sweepstakes. No Purchase Necessary. Open to US residents 21+. Begins on 4/23/23 and ends on 9/4/23. Visit www.stellaartois.com/letsdodinner for free entry and Official Rules. Message & data rates may apply. Void where prohibited.
About Water.org
Water.org is an international nonprofit organization that has positively transformed more than 52 million lives around the world with access to safe water or sanitation. Founded by Gary White and Matt Damon, Water.org pioneers market-driven financial solutions to the global water crisis. For more than 30 years, Water.org has been providing women hope, children health and families a future. Learn more at https://water.org/.
About Stella Artois
Stella Artois® is a Belgian-style lager and part of a brewing tradition of crafting the finest lager with quality ingredients since 1366. Known for its malty middle and crisp finish delivering a full flavor and a hint of bitterness, this beer is recognized internationally for its excellence and taste. Stella Artois is best enjoyed in the iconic Chalice according to the 3-Step Pouring Ritual to guarantee a perfect experience of this gold standard lager. Along with its classic lager, Stella Artois also offers Stella Artois Liberté, a zero-alcohol brew with the same refreshing taste. Visit www.stellaartois.com for more information.
About Anheuser-Busch
At Anheuser-Busch, our purpose is to create a future with more cheers. We are always looking to serve up new ways to meet life's moments, dream big to move our industry forward, and make a meaningful impact in the world. We hope to build a future that everyone can celebrate, and everyone can share. For more than 160 years, Anheuser-Busch has carried on a legacy of brewing great-tasting, high-quality beers that have satisfied beer drinkers for generations. Today, we own and operate more than 120 facilities, including breweries, wholesaler distribution centers, agricultural facilities and packaging plants, and have more than 19,000 colleagues across the United States. We are home to several of America's most loved beer brands, including Budweiser, Bud Light, Michelob ULTRA and Stella Artois, as well as a number of regional brands that provide beer drinkers with a choice of the best-tasting craft beers in the industry. From responsible drinking programs and emergency drinking water donations to industry-leading sustainability efforts, we are guided by our unwavering commitment to supporting the communities we call home. For more information, visit www.anheuser-busch.com or follow Anheuser-Busch on LinkedIn, Twitter, Facebook and Instagram.
Press Contacts
Allison Wilson
Press Contacts
Media@anheuser-busch.com is a single point of contact for journalists. If you are a member of the press and have an exclusively news-related inquiry, please direct it to this address. For other questions or requests, please click here.