Anheuser-Busch Celebrates 90 Years of the World-Famous Budweiser Clydesdales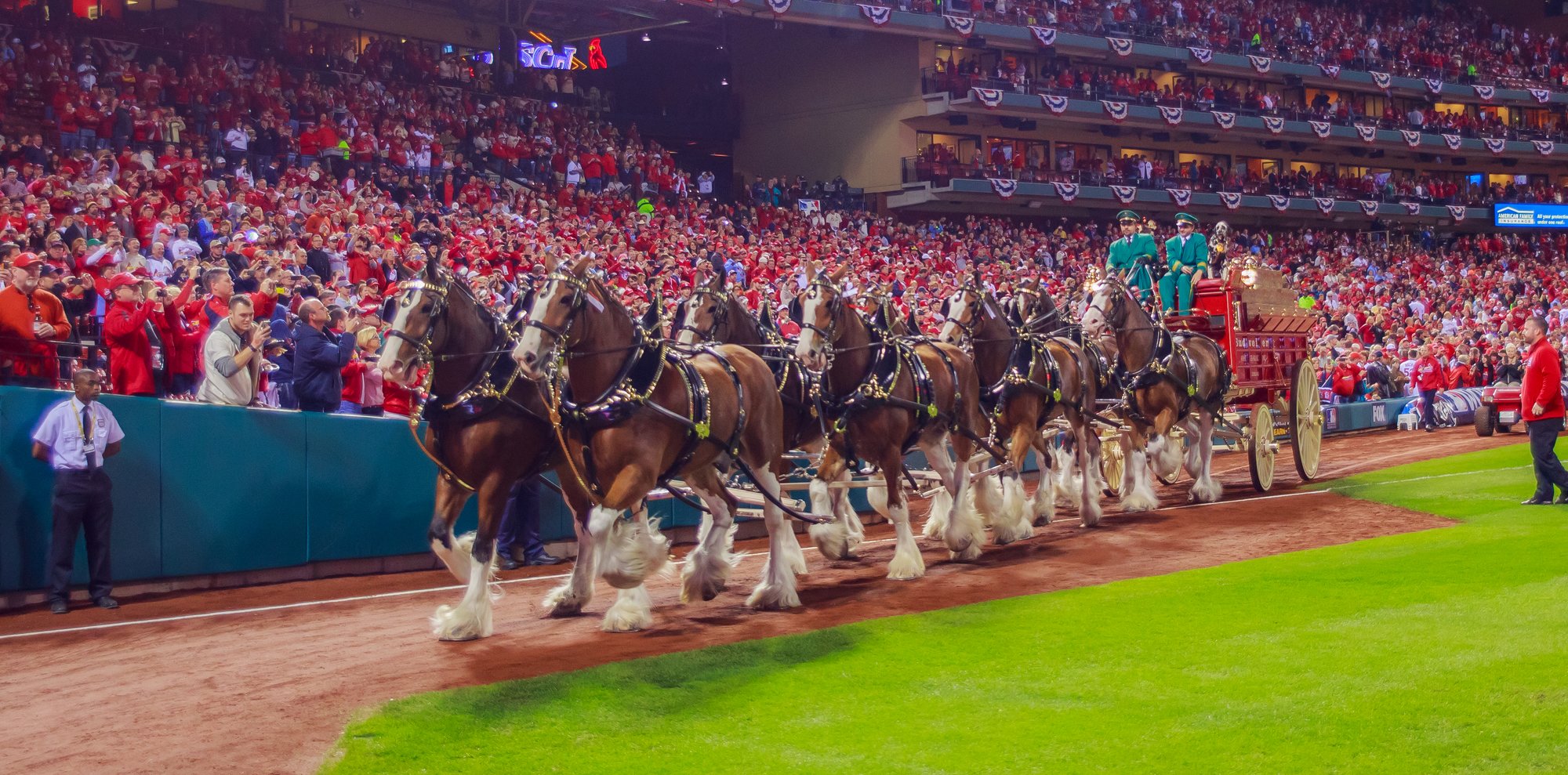 From Prohibition to major moments in modern culture, the legendary Budweiser Clydesdales embody the American spirit
St. Louis, MO – January 18, 2023 – This year, Anheuser-Busch is celebrating the 90th anniversary of the Budweiser Clydesdales, an enduring symbol of the brewer's heritage and a testament to the iconic horses' role in American culture - past, present and future.
Anheuser-Busch will celebrate the Clydesdales' rich history all year long by doing what America's most recognizable horses do best: bringing people together. From January through December, the Clydesdales will make appearances in communities across the country, including several special celebrations to commemorate the 90-year anniversary. First appearing in 1933 to celebrate the repeal of Prohibition, nine decades later, the beloved icons continue to be an integral part of Anheuser-Busch's purpose to create a future with more cheers and a reflect the strength, resilience, tradition and the American spirit that Budweiser embodies.
"The Budweiser Clydesdales have long served as a beacon for Anheuser-Busch's commitment to excellence, quality and community. We're thrilled to celebrate the 90th anniversary of this cherished icon as we enter a new chapter in our company's storied heritage," said Brendan Whitworth, CEO, Anheuser-Busch. "As a longtime Budweiser fan, I'm excited for the opportunity to commemorate the Clydesdales, their caretakers and the inspiration they bring in a new way. The Clydesdales represent the best of the American spirit, and we are looking forward to celebrating this milestone with our teams and consumers both in their hometowns and on national stages."
The 2023 anniversary activations will focus on showcasing not only Clydesdale history, but the story of how the iconic horses remain at the heart of Anheuser-Busch's 160-year evolution. From major sporting events, like the Super Bowl, to events in communities that are home to the brewer's 120 facilities, the Clydesdales and their embodiment of American culture will be showcased on consumers' doorsteps.
"Since their debut in 1933, the Budweiser Clydesdales have become synonymous with strong and vibrant communities," said Cesar Vargas, Chief External Affairs Officer, Anheuser-Busch. "Whether they are headlining local parades or kicking off sports seasons, the Clydesdales always bring people together. I'm proud that the Clydesdales continue to embody Anheuser-Busch's efforts to provide opportunity for our people, uplift our communities and make a meaningful impact on the world around us."
Over the past nine decades, the Clydesdales have become part of the fabric of major cultural moments across the U.S. Most notably, the iconic horses have been a staple and fan favorite at major sporting events, including the Super Bowl and Major League Baseball games. In recent years, the Clydesdales have also participated in Anheuser-Busch's programs designed to uplift local communities and bring people together, such as the annual Brew Across America congressional Brewing Competition.
"At Anheuser-Busch, our marketing strategy leads with purpose and our shared goal to build winning brands, campaigns and products that matter to our consumers. The Budweiser Clydesdales are a 90-year example of that strategy succeeding through insightful connections," said Benoit Garbe, Chief Marketing Officer, Anheuser-Busch. "As we celebrate the Clydesdales' history, a future-forward lens will be central to our commemoration and strategy into the next 90 years of the Budweiser Clydesdales."
More than just a symbol, the Clydesdales are part of the Anheuser-Busch family. It all dates back to 1933, when the Clydesdales made their debut on April 7th as a gift from August A. Busch Jr. and Adolphus Busch III to their father in celebration of the repeal of Prohibition. Today, the legendary Clydesdales are born and raised at Warm Springs Ranch, resting on 300-plus acres of rolling hills in the heart of Missouri. The hitches of the Budweiser Clydesdales are based out Anheuser-Busch's home state of Missouri and spend over 300 days per year traveling to communities all over the country.
Anheuser-Busch strives to create a future with more cheers, a purpose that is grounded in its ambition to make a positive and lasting impact in the communities that we call home. Anheuser-Busch and its employees have deep connections – from farmers and suppliers, to wholesalers retailers and consumers – and all of our partners are encouraged to participate in the 90th anniversary by attending the various celebrations throughout the year. For more information about these events and the Budweiser Clydesdales, visit Anheuser-Busch's website.
At Anheuser-Busch, our purpose is to create a future with more cheers. We are always looking to serve up new ways to meet life's moments, dream big to move our industry forward, and make a meaningful impact in the world. We hope to build a future that everyone can celebrate, and everyone can share. For more than 160 years, Anheuser-Busch has carried on a legacy of brewing great-tasting, high-quality beers that have satisfied beer drinkers for generations. Today, we own and operate more than 120 facilities, including breweries, wholesaler distribution centers, agricultural facilities and packaging plants, and have more than 19,000 colleagues across the United States.
We are home to several of America's most loved beer and beyond beer brands, including Michelob ULTRA, Cutwater Spirits, Stella Artois, Budweiser and Bud Light as well as a number of regional brands that provide beer drinkers with a choice of the best-tasting craft beers in the industry. From responsible drinking programs and emergency drinking water donations to industry-leading sustainability efforts, we are guided by our unwavering commitment to supporting the communities we call home. For more information, visit www.anheuser-busch.com or follow Anheuser-Busch on LinkedIn, Twitter, Facebook, and Instagram.
Press Contacts
Anheuser-Busch Media Relations | media@anheuser-busch.com
Media@anheuser-busch.com is a single point of contact for journalists. If you are a member of the press and have an exclusively news-related inquiry, please direct it to this address. For other questions or requests, please click here.