Anheuser-Busch, MADD, and Uber Launch 'Decide To Ride' Campaign on College Campuses to Encourage 21+ Fans to Plan Ahead for Sober Rides on Game Days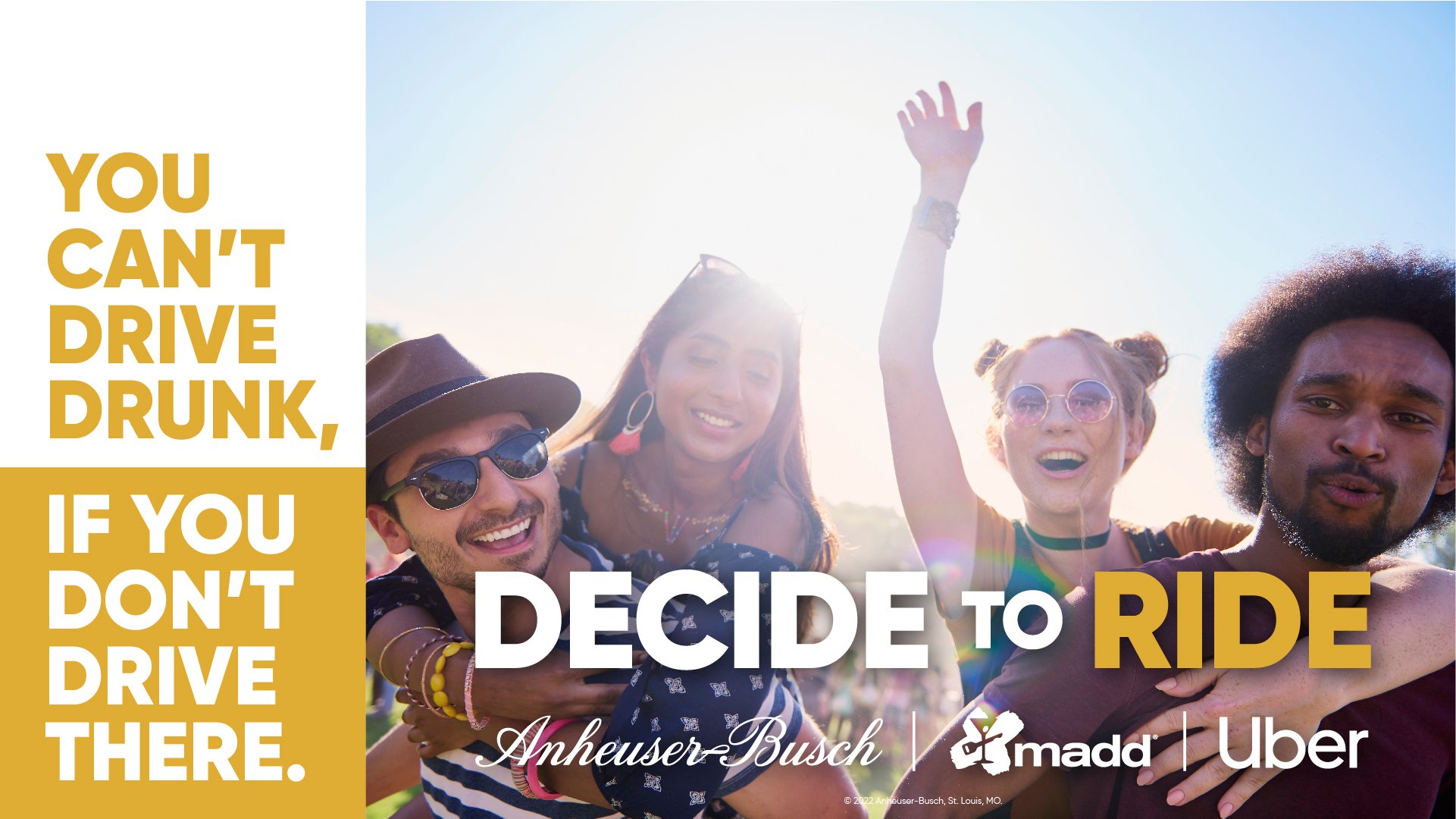 THE COALITION IS EXPANDING TO COLLEGES NATIONWIDE TO HELP PREVENT DRUNK DRIVING DURING THE COLLEGE FOOTBALL SEASON
August 31, 2023 - The country's leading brewer, Anheuser-Busch, the nation's largest drunk driving victim services and advocacy nonprofit, Mothers Against Drunk Driving (MADD), and ridesharing platform, Uber, announced today the launch of their joint Decide to Ride campaign on college campuses, with the aim of preventing drunk driving on football game days this fall.
Expanding the campaign to college campuses reflects the coalition's unwavering and strategic approach to combatting drunk driving amongst at-risk demographics. Consumers who are aware of the campaign are 40 percent more likely to avoid drunk driving by using a ridesharing app to get safely to and from their destinations, according to internal campaign research developed by the coalition.
Anheuser-Busch, MADD, and Uber formed this first-of-its-kind coalition in 2021 with the launch of its Decide to Ride campaign and a clear reminder to consumers that "If You Drink, Don't Drive. Decide to Ride." Just last year, through partnerships with 22 professional sports teams and 5 Live Nation venues, the coalition encouraged countless attendees at sports games, concerts, and festivals nationwide to sign its pledge to Decide to Ride. Nearly 12,000 consumers demonstrated responsible drinking by redeeming Uber ride-share discount codes offered through the campaign to take advantage of the safe ride-sharing option.
"Anheuser-Busch has been promoting a culture of responsible drinking for over a century, and we know there is still more to be done. The expansion of Decide to Ride to college communities aims to promote alcohol safety where we can create the greatest impact," said Anheuser-Busch Chief External Affairs Officer Cesar Vargas. "Football season is a time for fans to come together. To ensure a future with more cheers for all, it's imperative that we help college football fans get home safely. That's who we are, and that's what this coalition is all about."
Building on these successes, the coalition is partnering with colleges and universities nationwide this fall to encourage them to plan ahead for a safe ride if they plan to drink on game days. Throughout the college football season, the coalition and Anheuser-Busch wholesaler partners will be activating the Decide to Ride campaign in college communities around game days, leveraging various pop-ups, signage, and media promotions both on campus and in stadiums.
"As college sports bring together students, friends, and family from all over the nation, MADD wants everyone who attends game day to have fun! Please remember that it's against the law to drink under the age of 21 and if you do choose to consume alcohol, leave the keys at home and make a plan for a safe ride before the first drink – designate a nondrinking driver, use rideshare or public transportation." said Tess Rowland, MADD National President.
Over the last 35 years, Anheuser-Busch and its network of independent wholesaler partners have invested more than $1 billion in community-based programs and initiatives to prevent underage drinking, drunk driving, and other harmful uses of alcohol. This includes an investment of nearly $14 million since 1999 to support social norms programs that reduce alcohol harm and increase protective behaviors on college campuses. In 2021, Anheuser-Busch wholesalers also participated in alcohol education programs with 185 colleges and universities.
"We are proud to continue our work with Anheuser-Busch and MADD to remind fans to Decide to Ride," said Kristin Smith, Head of Road Safety Policy at Uber. "There is never a reason to get behind the wheel impaired, especially with options like Uber, which studies show helps reduce impaired driving fatalities in our communities. Ahead of the fall football season, we want to make it easy for everyone to Decide to Ride."
###
ABOUT ANHEUSER-BUSCH
At Anheuser-Busch, our purpose is to create a future with more cheers. We are always looking to serve up new ways to meet life's moments, dream big to move our industry forward, and make a meaningful impact in the world. We hope to build a future that everyone can celebrate, and everyone can share. For more than 165 years, Anheuser-Busch has carried on a legacy of brewing great-tasting, high-quality beers that have satisfied beer drinkers for generations. Today, we own and operate more than 120 facilities, including breweries, wholesaler distribution centers, agricultural facilities and packaging plants, and have more than 18,000 colleagues across the United States.
We are home to several of America's most loved beer and beyond beer brands, including Michelob ULTRA, Cutwater Spirits, Stella Artois, Budweiser and Bud Light as well as a number of regional brands that provide beer drinkers with a choice of the best-tasting craft beers in the industry. From responsible drinking programs and emergency drinking water donations to industry-leading sustainability efforts, we are guided by our unwavering commitment to supporting the communities we call home. For more information, visit www.anheuser-busch.com or follow Anheuser-Busch on LinkedIn, Twitter, Facebook and Instagram.
ABOUT MOTHERS AGAINST DRUNK DRIVING (MADD)
Mothers Against Drunk Driving® (MADD) is the nonprofit leader in a movement to create a Nation of #NoMoreVictims of impaired driving. By working to end drunk and drugged driving, MADD has helped reduce drunk driving deaths by more than 50%, saving more than 400,000 lives. The organization is a vocal advocate for justice for victims, new laws, and new technology, including implementation of auto technology in every vehicle that prevents impaired driving. MADD also has provided supportive services to nearly one million victims of drunk and drugged driving at no charge through local victim advocates and its 24-Hour Victim Help Line 1-877-MADD-HELP. For more information or to make a donation, visit https://madd.org/and follow MADD on Facebook, Instagram, Twitter, TikTok, LinkedIn, and YouTube.
ABOUT UBER
Uber's mission is to create opportunity through movement. We started in 2010 to solve a simple problem: how do you get access to a ride at the touch of a button? More than 39 billion trips later, we're building products to get people closer to where they want to be. By changing how people, food, and things move through cities, Uber is a platform that opens up the world to new possibilities.
Press Contacts
Media@anheuser-busch.com is a single point of contact for journalists. If you are a member of the press and have an exclusively news-related inquiry, please direct it to this address. For other questions or requests, please click here.