Bud Light and NFL Players Spread Holiday Cheer by Gifting Fans The 'Perfect Present': Signed Game-Worn Jerseys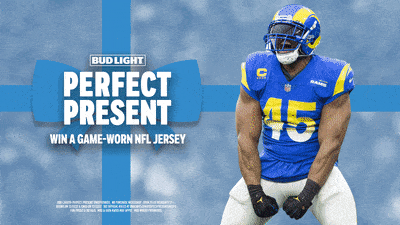 Players across five NFL teams are teaming up to give away jerseys and tickets to a game this holiday season
NEW YORK, NY – December 15, 2022 - It's hard to find the perfect present for the NFL-fan in your life. They already have a store-bought jersey and the team's coffee mug. That's why this holiday season, ahead of the NFL's first-ever December 25th triple header, Bud Light and five of its NFL athletes are making it easy to give NFL fans 21+ in your life the perfect present: a signed game-worn jersey.
"As the official beer sponsor of the NFL, we know it can be quite the challenge to get that football fan in your life the perfect present to go alongside their favorite beer," said Alissa Heinerscheid, Vice President of Marketing for Bud Light. "That's why we're making the holiday shopping a little easier for fans by giving away Bud Light's 'Perfect Present' - game-worn jerseys and tickets to NFL games throughout the holiday season."
Starting today, 21+ fans will be able to enter for a chance to win by tweeting #BudLightPresent and #Sweepstakes at Bud Light for their chance to receive the ultimate prize this holiday season. In addition to winning a game-worn jersey, fans will also receive tickets to attend a game with their family. Participating teams and players include the Tampa Bay Buccaneers' Devin White, Denver Broncos' Justin Simmons, Miami Dolphins' Christian Wilkins, Arizona Cardinals' Isaiah Simmons and Los Angeles Rams' Bobby Wagner.
"I am excited to spread the holiday cheer this season with Bud Light's 'Perfect Present' campaign," said Bobby Wagner, eight-time All-Pro and eight-time Pro Bowl linebacker for the Los Angeles Rams. "It means a lot to get jerseys from fellow players after a game so I can only imagine how a lucky fan will feel when they get one of their own."
To learn more about how Bud Light is spreading holiday cheer, visit Budlight.com/perfectpresentsweeps and follow Bud Light on Facebook at Facebook.com/BudLight, on Twitter at @BudLight, and on Instagram @BudLight.
BUD LIGHT® PERFECT PRESENT SWEEPSTAKES. No Purchase Necessary. Open to US residents 21+. Begins on 12/15/22 & ends on 12/22/22. See Official Rules at Budlight.com/perfectpresentsweeps for prizes & details. Msg & data rates may apply. Void where prohibited.
The Bud Light brand name represents a family of products including Bud Light, Bud Light Seltzer, Bud Light NEXT, Bud Light Peels, Bud Light Chelada, Bud Light Platinum and Bud Light Platinum Seltzer. At the forefront of innovation, Bud Light continues to expand its product portfolio, offering a wide range of products brewed to meet the ever-changing preferences of consumers everywhere. Since 1982, Bud Light has delivered the best-selling premium light lager in America that is consistently brewed with a fresh, clean finish. For more information about Bud Light and our full family of products, visit www.BudLight.com.
At Anheuser-Busch, our purpose is to create a future with more cheers. We are always looking to serve up new ways to meet life's moments, dream big to move our industry forward, and make a meaningful impact in the world. We hope to build a future that everyone can celebrate, and everyone can share. For more than 160 years, Anheuser-Busch has carried on a legacy of brewing great-tasting, high-quality beers that have satisfied beer drinkers for generations. Today, we own and operate more than 120 facilities, including breweries, wholesaler distribution centers, agricultural facilities and packaging plants, and have more than 19,000 colleagues across the United States. We are home to several of America's most loved beer and beyond beer brands, including Michelob ULTRA, Cutwater Spirits, Stella Artois, Budweiser and Bud Light as well as a number of regional brands that provide beer drinkers with a choice of the best-tasting craft beers in the industry. From responsible drinking programs and emergency drinking water donations to industry-leading sustainability efforts, we are guided by our unwavering commitment to supporting the communities we call home. For more information, visit www.anheuser-busch.com or follow Anheuser-Busch on LinkedIn, Twitter, Facebook, and Instagram.

Press Contacts
Bud Light - Michael Goon | media@anheuser-busch.com3PM - Jake Spitz | jspitz@webershandwick.com
Media@anheuser-busch.com is a single point of contact for journalists. If you are a member of the press and have an exclusively news-related inquiry, please direct it to this address. For other questions or requests, please click here.