Budweiser Makes Powerful Super Bowl Comeback with a Message of American Resilience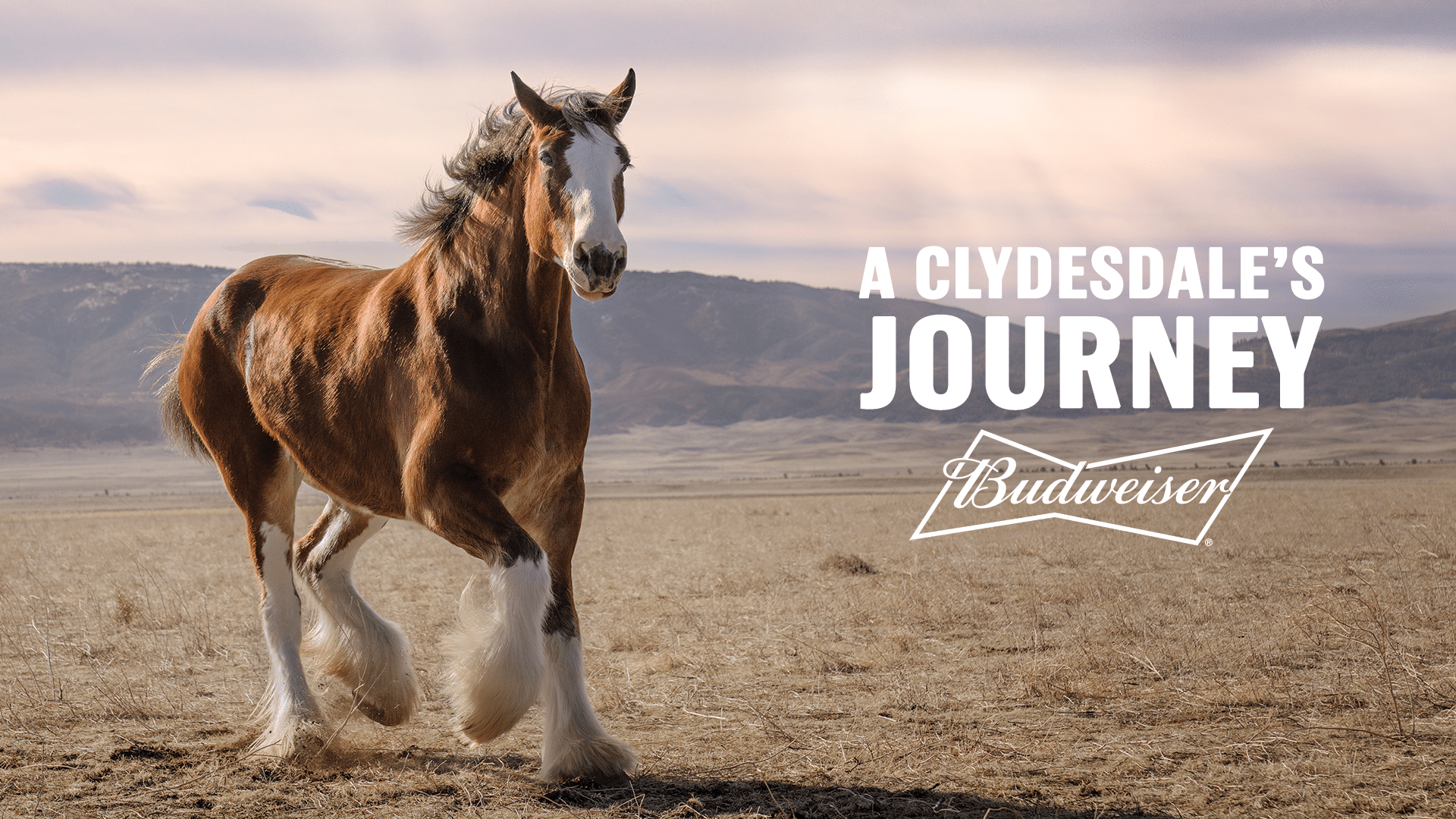 Academy Award Winning Director Chloé Zhao captures the journey of a beloved Budweiser Clydesdale in the brand's Super Bowl LVI commercial
February 2, 2022, New York, NY - After sitting out last year's Super Bowl for the first time in 37 years to support COVID-19 vaccine awareness, Budweiser is back in the game with a commercial spotlighting a beloved Budweiser Clydesdale's path to recovery, symbolizing the resiliency that the people of America continue to show through difficult times. The spot, entitled "A Clydesdale's Journey," directed by Academy Award-winner Chloé Zhao, follows a Clydesdale fighting through setbacks and overcoming challenges, mirroring the character of the country. While America has faced numerous hurdles throughout its history, the steadfastness of the American spirit continues to propel the country to recover from hardship, stronger than ever.
"As America's beer, we wanted to come back to the Super Bowl with a message of strength and resilience," said Daniel Blake, Group VP of Marketing, Budweiser & Value at Anheuser-Busch. "Budweiser has a history of supporting the country through difficult times and reminding communities across America that better days are ahead. With this Super Bowl spot, our goal was to highlight the perseverance and determination of the country and depict that by coming together, we can grow and move forward stronger than before."
The Spot
Created by VaynerMedia and directed by Academy Award winner Chloé Zhao, "A Clydesdale's Journey," set to an arrangement of Gary Clark Jr.'s live rendition of the national anthem and other pieces of his work, is a story of resilience that takes place in the American west. Though the Clydesdale faces injury, the horse's own determination and the bond it shares with a dog, stableman and vet, see it through a tough road of recovery. The spot, depicted through Chloé's unique and deeply human lens, includes messages of resilience, togetherness and hope and is a story that anyone can see themselves reflected in. The commercial culminates with a message stating, "Down Never Means Out," reminding viewers that no matter what they face, anything is surmountable with perseverance.
"We all fall down in life and the journey to healing is often painful, long and solitary," said Chloé Zhao, Academy Award-winning director. "To tell a story of perseverance, hope and friendship through the lens of the beloved Clydesdales really resonated with me."
The stars of the commercial, the Budweiser Clydesdales, have been involved in Anheuser-Busch's television ads since the 1950s, and made their first appearance in the Super Bowl in 1975. The Budweiser Clydesdales are a staple of Anheuser-Busch's longstanding heritage and a symbol of American tradition.
Fans can view the :30s version of "A Clydesdale's Journey" during the Super Bowl and can check out Budweiser's YouTube page for the full :60s spot. For more information on Budweiser's Super Bowl campaign, follow Budweiser on Twitter, Instagram and Facebook.
Supporting Small Businesses
In an effort to continue its support of communities across America, Budweiser is also making a donation to the Small Business Relief Fund, housed at Accion Opportunity Fund, benefiting hard working entrepreneurs and small businesses as they navigate periods of crisis and uncertainty. After supporting vaccine awareness and education efforts with the Ad Council during last year's Super Bowl, with this donation, Budweiser is extending its support to communities and businesses across America so that they can continue to grow and bring people together.
About Budweiser
Budweiser, an American-style lager, was introduced in 1876 when company founder Adolphus Busch set out to create the United States' first truly national beer brand – brewed to be universally popular and transcend regional tastes. Each batch of Budweiser stays true to the same family recipe used by five generations of Busch family brewmasters. Budweiser is a medium-bodied, flavorful, crisp and pure beer with blended layers of premium American and European hop aromas, brewed for the perfect balance of flavor and refreshment. Budweiser is made using time-honored methods including "kraeusening" for natural carbonation and Beechwood aging, which results in unparalleled balance and character.
About Anheuser-Busch
For more than 160 years, Anheuser-Busch has carried on a legacy of brewing great-tasting, high-quality beers that have satisfied beer drinkers for generations. Today, we own and operate more than 120 facilities, including breweries, wholesaler distribution centers, agricultural facilities and packaging plants, and have more than 19,000 colleagues across the United States. We are home to several of America's most recognizable beer brands, including Budweiser, Bud Light, Michelob ULTRA and Stella Artois, as well as a number of regional brands that provide beer drinkers with a choice of the best-tasting craft beers in the industry. From responsible drinking programs and emergency drinking water donations to industry-leading sustainability efforts, we are guided by our unwavering commitment to supporting the communities we call home. For more information, visit www.anheuser-busch.com or follow Anheuser-Busch on LinkedIn, Twitter, Facebook and Instagram.
Press Contacts
Media@anheuser-busch.com is a single point of contact for journalists. If you are a member of the press and have an exclusively news-related inquiry, please direct it to this address. For other questions or requests, please click here.